If owning a Husain is still on your bucket list, then AstaGuru's upcoming auction is something you should look at. On August 29 – 30, Indian online art auction house, AstaGuru will present a comprehensive collection of works by Maqbool Fida Husain (MF Husain), one of India's most prolific artists. The work are on viewing at the AstaGuru Gallery till August 30, 2020.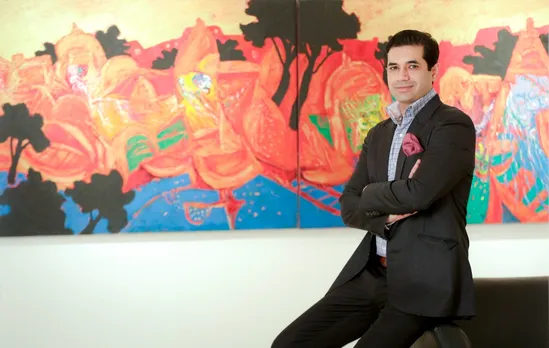 Titled 'Husain', this dedicated online auction will be the largest solo artist auction to be curated in India in relationship to value and the diversity of works on offer. Featuring 36 lots with a total estimate of Rs40 crore, the auction will showcase Husain's works represented through some of the most important paintings he created during his career. The auction will be led by Husain's third most important work titled 'Voices' (oil on canvas, 1958) which spans 20 feet (estimate: Rs17-20 crore; US$2,361,111 - 2,777,778). Also on auction for the first time are a rare selection of jewellery and tapestry designed and co-created by Husain. His highly sought-after toys will also be part of the auction.
An exclusive auction such as this 'Husain' edition, takes a lot of work and planning. According to Tushar Sethi, CEO, AstaGuru, the auction was scheduled during the auction house's annual timetable planning. "We've worked tirelessly to present a rich catalogue which pays homage to the master and his art," he says.
MF Husain is India's most prolific and revered artist with an outstanding legacy. "He dedicated his entire life to creating art which truly captures the glory of our country, its culture and its people," says Sethi. "We really wanted to showcase his vast oeuvre and the diversity of the subject matter of his work. The auction is a tribute to the master and celebrates his contribution towards the development of modernism in India," he adds.
Husain has always drawn huge crowds to galleries whenever his works were exhibited. It is no different when his works appear at auctions all over the world. He has always been one of the most successful Indian artists in the auction market with his works witnessing great demand, not just in India but also internationally. Husain's works started showing up at auctions in 1992. One of his first works to sell at an auction was Figures in Landscape (Kerala series) (1967) at a Sotheby's auction. The work sold for $27,700 or Rs8 lakh, based on the convergence rate at the time. Most recently, Battle of Ganga and Jamuna: Mahabharata 12 (1972), set a new record when it was sold for Rs13.44 crore at the auction held by Mumbai based art auction house, Saffronart, in February this year, on behalf of the Enforcement Directorate, Government of India, featuring the seized assets of fugitive jeweller, Nirav Modi. Over the years, the price for a Husain work has increased a whopping 168 times.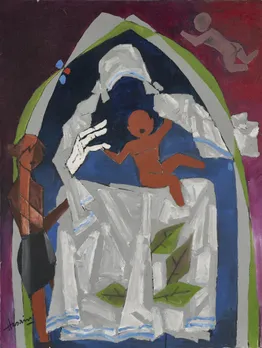 The 36 works in this current auction have been carefully selected. According to Rakshanda Hussain, specialist at AstaGuru, these are some of the artist's greatest artworks, many of which are milestones, not just for the artist, but for Indian modernism too. The wide range of works represent Husain's individualistic style, and showcase the diverse subject matter of his expansive body of work. "Through this landmark offering we hope to set a new precedent for Husain, as well as the category of modern Indian art," she says.
The monumental work Voices, painted in 1958 is being offered at auction for the very first time. This was an extremely significant phase in the artist's career when he became an artist of international repute. The artwork won him the International Biennale Award at the Tokyo Biennale in 1959. This further led to him receiving a Rockefeller scholarship later that year to study in New York where he was exposed to the works of Abstract Expressionists. Voices has enjoyed an extensive exhibition history. It was exhibited at a retrospective in 2005 at the Jehangir Art Gallery in Mumbai.
Besides the art works, the auction will also feature a preliminary sketch created by Husain of his famous painting titled Between The Spider and The Lamp, probably the most important artwork created by any Indian artist. Between the Spider and the Lamp is a quintessential MF Husain creation, and is considered to be Modern Indian Art's most iconic and important work. The lot is rare given the fact that MF Husain seldom prepared sketches for his works. Often known to paint directly on the canvas this unique sketch gives us a rare glimpse into his process and methodology. This highly important sketch (lot 13) will be offered at auction for the very first time and is estimated Rs.75,00,000 – 85,00,000 (US$ 104,167 – 118,056).
During his initial days in Mumbai, Husain started by painting movie billboards on the streets, combining two of his passions – painting and cinema. Since his formative years, Husain integrated many indigenous traditions in his art, this trait to assimilate the symbolic use of colour and spatial divisions of miniature painting, breaking down and incorporating the distortions from folk heritage aided him to create painting that were relatable by the masses. Husain worked extensively throughout his life and developed various series of works including topics as diverse as Mohandas K. Gandhi, Mother Teresa, the British Raj and motifs of Indian urban and rural life. On the global platform, Husain was synonymous with his paintings of horses. "His version of the beast is captured in their majestic gallop," reads the auction catalogue.
According to Sethi, the reaction towards the catalogue has been encouraging. "It presents a unique opportunity for collectors to diversify, as well as enrich their Husain collections, given the fact that we have creations of different mediums, as well as some of his most important, scaled works going under the hammer for the very first time," he says.