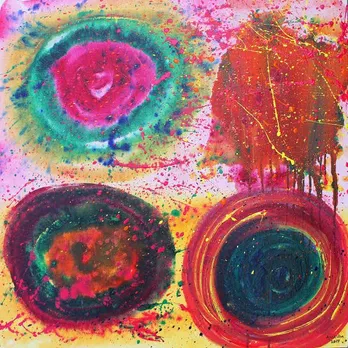 There was an unusual art show at the Kamalnayan Bajaj Art Gallery recently. Not unusual from what was on display – art on canvas, but unusual because the artists were all inmates at various prisons in Maharashtra. The current show, the fifth edition of Art from Behind the Bars, had on display 63 canvases painted by inmates lodged at five different prisons in the state. A look at the colourful works you wouldn't think they were the handiworks of inmates, holed up in dark cells.
The show, in its fifth edition, is the brain child of Kavita Shivdasani who runs a class called `Know your environment,' in Mumbai for children between the ages of 4-14 years. Shivdasani started `Art from behind the bars', her main community service project, in 2007, to promote the art works of convicts. This fifth edition of the prison art exhibition comprised 63 canvases by prison artists from four prisons, participating in the show. Money from sale of the artwork will be credited into the prison artist's account, so on their release they have a cache to fall back on until they find suitable employment.
The project started on an off-chance. As part of the creative writing class, the 14-15 year olds were writing a story. Shivdasani then took them on a tour of the places in the story. Arthur Road jail in central Mumbai was on the route. After obtaining the necessary permissions, she took the kids in. During her conversation with the senior jailor, she mentioned her class and the various art workshops she has for children. The jailor suggested if she could help with some of the inmates who have some talent in poetry and art. Art was more her cup of tea.

Shivdasani's meeting with ex-convict Lalitha, who was then in the Byculla jail, another jail in Mumbai, gave her food for thought. She was surprised by what she saw. "These people were cut off from everything. From an art critic point of view, they (the works) were not good. But taking into account what there were going through, it wasn't bad," says Shivdasani.
Initially, she couldn't think of how to use the works. After giving it some thought, she thought of making it a part of her community service portion in her class activity and see if it made a difference. The first exhibition in 2007 comprised 10 works. Being an under-trial and a convict carries a lot of stigma. Besides the one who is convicted, it also affects the rest of his / her families, in terms of job loss, etc. Hence, the money from the sale of the artwork at the exhibition is credited into the prison artists' account to help them on their release. The children who attend her class are also help to raise funds.
In this particular exhibition, the fifth edition, Shivdasani and her team reached out to inmates who did not necessarily have art training, and had little or no experience of painting on paper or canvas. Three art workshops were conducted in the Byculla Jail, Yerwada Central Jail and Arthur Road Jail. Twenty inmates participated in each workshop. The medium used was crayons, sketch pens and acrylic paints on paper and canvas. The tools: their fingers, sponge bits and combs. "What evolved were artworks that ranged from rigid and typical depictions to free flowing movements of waves, whorls, peaks, loops and dots in eye-catching colour combinations," says Shivdasani.
The opportunity with art that Shivdasani has brought to the convicts has made an impact on them. Sudeb Pal, an inmate at Nashik Central Jail has had a change in outlook ever since he started receiving painting equipment through Art from Behind the Bars. He began to paint regularly. Coming from a culturally-inclined family, art and creativity is in his blood. During his childhood he got to interact with a number of artists who, due to lack of opportunity and support, could barely make a living out of art. So once he is free, he wants to work with such talented people as these to guide, teach and support them. He hopes to give them opportunities just like he received from AfBB.