Mumbai based debut author, Farah Oomerbhoy, launched her book;
The Last of the Firedrakes – The Avalonia Chronicles
in India four months after the book's US launch by Minnesota-based Wise Ink Creative Publishing. The book has done well since then.
The Last of the Firedrakes
has been honoured as a finalist in the USA Best Book Awards 2015, and placed in the Collector's Dream category in the Watty Awards as one of the most added stories of 2015 on Wattpad. Seeing the book's success in the US, Farah felt it was time to launch the book at home. Her book has taken many by surprise. "We didn't even know you were writing," friends have said to her.
Farah is from two business families. She is the daughter of Zinia Lawyer, who was director at the erstwhile Associated Breweries & Distilleries,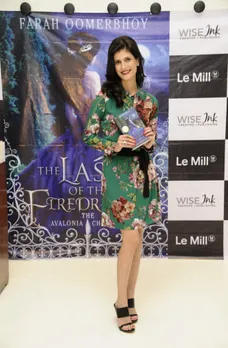 Author Farah Oomerbhoy
brewers of the once famous London Pilsner brand of beer which was merged with Vijay Mallya's United Brewery in the year 2000. She is married to Riyad Oomerbhoy, MD of RR Oomerbhoy (RRO) Pvt. Ltd. (RRO manufactures Primio branded edible oils (ground nut, sesame oil) and markets Barilla branded pastas and pasta sauces, Express Foods range of products and Boursin cheese.) With business in her blood, Farah did think of doing business with her mother. In fact, she went to Babson College, Boston, albeit, for a semester. "I realized that I just couldn't do it. There was calculus and just stuff that I didn't want to do. It wasn't interesting for me," she says. So she returned to Mumbai and graduated from St. Xavier's College, and later completed her MA in English Literature from Mumbai University. "I always loved writing. I used to write a little and put it away and I never really finished anything. A little bit of poetry here and there. Then finally I started this book when I had the idea," she says.
The Last of the Firedrakes
is a fantastic adventure story set in Avalonia, a dangerous land ruled by powerful magicians and a cruel, selfish queen who will do anything to control all seven kingdoms - including killing anyone who stands in her way. Thrust headlong into this new, magical world, Aurora's arrival sets plans in motion that threaten to destroy all she holds dear. With the help of a young fae, a magical Pegasus, and a handsome mage, Aurora, the protagonist, journeys across Avalonia to learn the truth about her past and unleash the power within her. Kingdoms collide as a complicated web of political intrigue and ancient magic lead Aurora to unravel a shocking secret that will change her life forever.
Growing up on a staple of Enid Blyton books which are distinctly set in England, and later Narnia's adventures, imagining magic and magical worlds was not difficult. Farah has been creating a fantasy world for close to 10 years. Notebooks are filled with kingdoms mapped out, from the trade routes to which shops are in which town and which cities. A tapestry in her grandmother's house depicting a forest and a castle was the doorway to the fantasy world of Avalonia. "Actually I thought of the world before. I never really thought of the story of how to get to that world or what to do with it. So I used to draw maps and write a little bit about this kingdom and that, then I would keep it away. It was fun for me; a hobby. Then one day I saw this tapestry and it just clicked that what if this tapestry was the way into the world," says Farah.
Separate chapters were uploaded to Wattpad, a free e-reading site, to get a sense of reader feedback. Almost immediately she had a huge load of followers asking for the next chapter. Farah got 1 million reads on Wattpad. By March 2014, her chapters were on the top of Wattpad's fantasy list.
Now that the first of the trilogy has been a success, expectations are high for the sequel. Farah's Facebook page is inundated with queries for book two. So the stress is building up. "As people do like the book, the next book has to be as good or better," she says.
With not many Indian writers catering to the fantasy adventure category for teens and young adults, Farah has put her foot in through that door with
The Last of the Firedrakes – The Avalonia Chronicles.