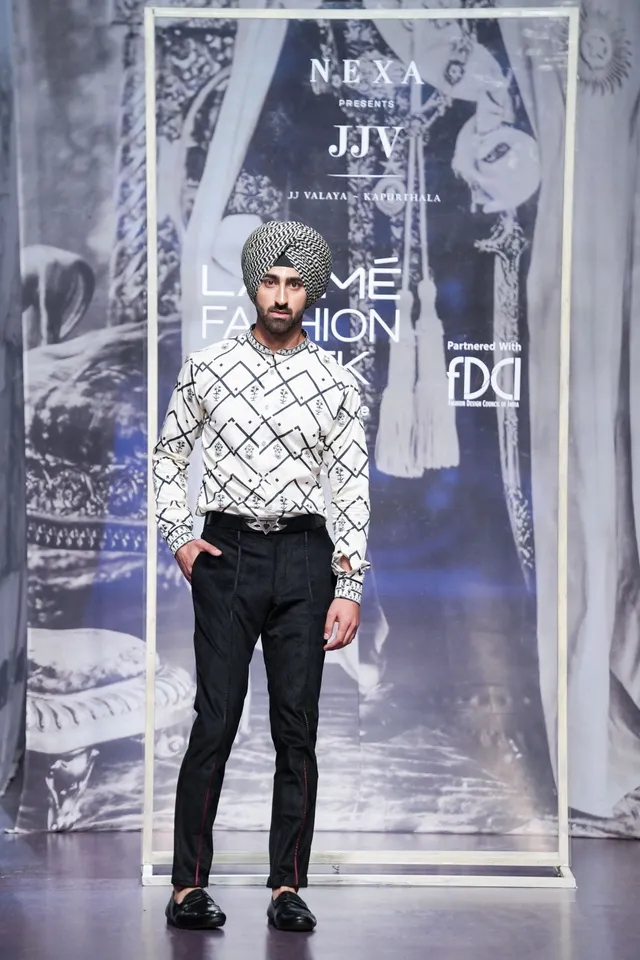 When veteran New Delhi based fashion designer and couturier, JJ Valaya, recently showed his new bridge to luxury line, JJV.Kapurthala at the Lakme Fashion Week in Mumbai, it was after a gap of some four years. In fact, he had taken a two year sabbatical from fashion just before the pandemic. This time off was what he needed to reset and rethink what he wanted to do in fashion. In a tete-e-tete, he talks about his journey and the corporatisation of the Indian fashion designer.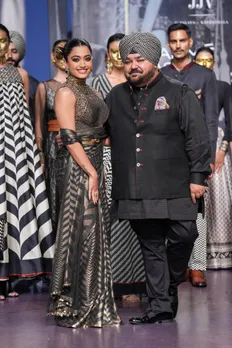 THE FEATURIST (TF): How have your 30 years in the Indian fashion industry been?
JJ Valaya (JJV): Wonderful. When I joined fashion in 1989, fashion was unheard of and the industry was just about starting. I was the third batch of NIFT. From there to now it's been wow! What a journey! And this profession never lets you get bored if you truly enjoy what you do. It presents you with challenges every six months. I think that's the key. If you don't enjoy whatever you're doing, it's over. It's been a wonderful journey. Wouldn't have it any other way.
TF: You have evolved from couture to jewellery to home to house of Valaya…
JJV: Couture is still the primary fascination of mine, and the primary driver for our business, but home is becoming equally important. Now with the JJV. Kapurthala line we have gone into the bridge to luxury range. This is a cooler, more accessible Valaya, not one where you have to get married to wear us. It is still occasion wear, but something that you can wear for any occasion. 
TF: Why did you take so long to launch a bridge line?
JJV: Actually we did dilly-dally with a few lines before. It didn't really take long, but a gentle evolution which had to have its own pace. I took a sabbatical also in the middle. I literally vanished into thin air for two years, and that was one of my best decisions. I always say that the two decisions I have taken in my life which at that point in time seemed totally disruptive but have stood me in good stead. One was quitting my career as a chartered accountant, and then deciding to go with fashion. And second was 25 years into the industry and then deciding to take a sabbatical to reset. I had to realign a lot of things.
TF: So what did you realign?
JJV: For starters I was getting very disappointed by what I was seeing in the industry. Everyone pretty much seemed to be doing the same thing. It was repetitive. Quality had gone for a toss. As long as you took something and filled it with loads of embroidery, the deed was done. I recall me sitting at a fashion show, and seeing these garments coming one after the other, and feeling no excitement. That's not good. That means something needs to change. Hence, the change had to be internal as well. I said okay I need to realign, rethink my whole strategy. That's what I did. So in those two years we restructured our entire business, and started with a completely other version 2.0.
TF? How did you realign?
JJV: We closed everything down. For two years there were no shops, no factory, nothing. But it had to be done. And again one of my best decisions. We have a legacy, so I wanted to go back to what I truly believed in; not just do something because it had to be done, because it's the need of the hour. I think that was very important. That is probably one of the most beautiful things in a creative life - where you can actually reflect and become a spectator to your own self, and see that something needs to be changed. For it to change it can't be a slight shift, it has to be an absolute disruption.
I'm the only one in India who has done it. And it needed to be done. I changed my business practice, I changed the way I work. I was very clear that I would focus on all my loves – fashion obviously, home and photography. Photography, of course, strictly remains a passion when I get my time. The other two are businesses.
TF: Now how do you divide up between fashion and home? 
JJV: The World of Valaya opened 10 months back in Delhi is spread over an area of 12,000 sq. ft. inside the JW Marriott. We have divided equally between fashion and home. Here too I was very clear that if I get into home, I don't want to be the fancy designer who does a few sketches and says now I don't know how it is made. So we have brought on board an architectural firm called Amalgamy, as our in-house architects. This has helped a lot in our projects. We are there from step A to step Z. We are currently doing six projects.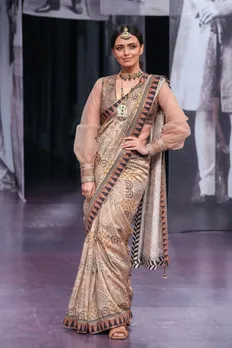 Fashion of course is our big upswing.  If all goes well with JJ V, the new brand, then we are looking at major expansions within that. This year we are targeting at least five new stores in various cities. We have not gone the public route yet. It's too early for me at the moment as I have come back again and need to put everything in place. Only then will I explore that. It's a great thing that this is happening in India.
There has been an interest in me from various people, but I feel that I still need some time. I'm just glad that I'm getting the opportunity to be a juggler from doing beautiful couture clothes at the highest level, to this young racy accessible line, to interiors and home to photography. It's like all my wishes have come true.
TF: What is your opinion of the current corporatisation of the Indian fashion designer?
Years ago Raymond's attempt with Be: was an multi-brand outlet. Those were interesting attempts, but now it is more serious. Now it is a corporatisation of the fashion house which is what is changing the dynamics totally. Who would have thought that you could open 20 stores in one year, and do it fearlessly. That can happen only when you have financial backing.
I think the next five years are going to be magical. Both Reliance and Birla have invested well into some of the best brands. It would be interesting to see what direction they take. Each one would have their own path. I am personally very excited to see how this evolves, and what this goes into.
TF: What is ahead for you?
JJV: The new JJ V line is different from what I typically do. You will see that the reflection is the same, but its cooler; and that should be the energy. I was telling my daughter the other day even if I am 80 or 85 years old, I will still be 22. The work I do never lets you go beyond a certain age. The body may, but the soul and spirit is so plugged in.
In four years I will be a senior citizen and I don't think like that. I'm in that zone where I feel `let's make it cool; let's make it sexy.' I just don't want to think that old thought process. Look at Karl Lagerfeld, Ralph Lauren and Giorgio Armani. Lagerfeld went at 86 years of age. The others are in their 80s, and still designing for the younger generation. They have no choice. If you don't understand the youth the brand doesn't have a future. That is where the seed is sown, and you have to sow the seeds every few generations.
Today all the mothers were Valaya brides at one time. Now all their daughters are coming to be Valaya brides. So it's quite a magical moment. I'm seeing clothes of mine, designs which the mothers wore. They keep them as precious things, and they looks like I made them yesterday. They have maintained and kept it. We are the biggest example of sustainability. Couture, by the virtue of its timelessness and its quality, lasts forever. So that joy I can't even explain to you: I can't put it into words. It's when you see something that you have created that stands the test of time, and being admired and appreciated, and then another generation comes back. Let's say it's a good time. India is in a happy space and Indian fashion definitely is in a happy space.