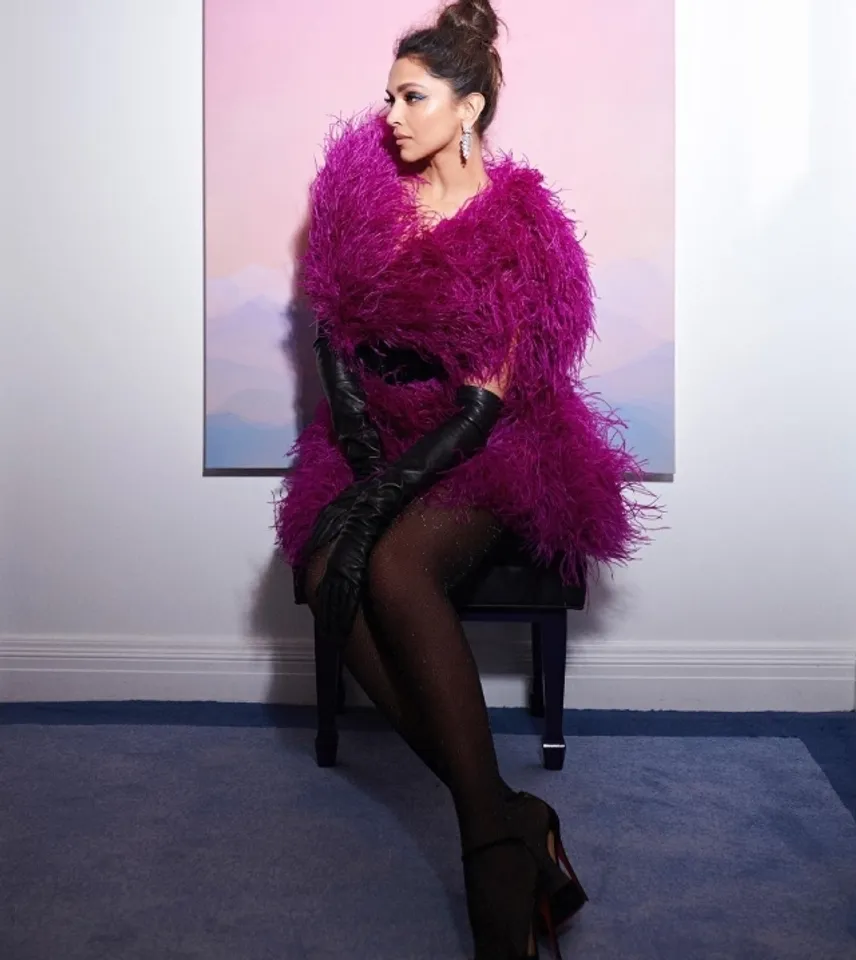 Recently, India born – America settled fashion designer Naeem Khan was awarded the 2023 Medal of Honor from the National Arts Club in New York, USA, for his work in fashion. The honor comes at a time when Khan celebrates 20 years of his label, Naeem Khan. "Naeem Khan embodies the style, vision and accomplishments that our medal of honor was founded more than 110 years ago to honor. Not only are his designs iconic, but he himself has been recognized as an icon," says David Doty, president, National Arts Club, in a press release. This award puts Khan in the same league as Geoffrey Beene, Carolina Herrera, Arnold Scaasi, Patricia Field, Norma Kamali, Iris Apfel, Narciso Rodriguez, Anna Sui and Valerie Steele, other previous honorees of the Medal of Honor.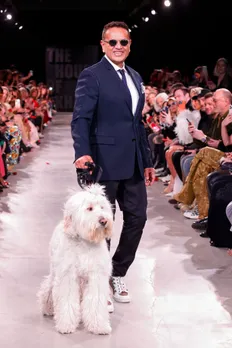 How does a man like Naeem Khan become one of the most sought after fashion designers of our time? How did he get here? "It's all to do with my dedication to something I learned from my grandfather and father. My love for India, the arts that we make from the embroideries, and the people who are involved in it. Basically something that my family has made. I am the third generation. I will never let that down," he says. 
Khan's mission is to keep that art alive, to have an international standing of India and make proud of the heritage that he comes from. Unquestionably his designs are very First Lady, Hollywood and important royal families, yet they are contemporary and always have India in them. He has made Indian embroidery modern, and acceptable to today's woman.
From a Bombay boy to one of the most iconic fashion designers of our time, it has been a tough journey for Khan. To gain such recognition in the New York fashion scene is no easy task. Khan gives a lot of credit for his success to his time and training with fashion designer Halston in the 1980s. Close to 40 years after leaving Indian shores, the next big push for Naeem Khan is to bring his brand to India.
According to Khan, while it would have been difficult to break into the competitive world of New York fashion without a mentor like Halston, it has also been a combination of factors that allowed him to succeed. First of all, one has to understand the market, the seasons, the fits, and the protocol. To bring ones lines into major chains of stores like Neiman Marcus, Bergdorf Goodman and Saks one has to have a certain amount of credibility. 
Second issue is that your finances have to be in place. The stores don't buy your goods. You have to make an agreement saying if items of the collection don't sell, you will take it back, or you will give them an X amount of discount, and in order to be able to do that your finances have to be in place "I learnt from a young age that you have to have a great team of people who are going to play ball with you, otherwise you can't do it," he says. Today, Khan is guided by a team of 40 people, headed by a CEO who guides him. 
Most importantly what has helped him is living his life with ethics, dignity, pride and honour, how to conduct himself in such a manner something that he learnt from his father. 
Khan didn't go to any fashion school. In fact, when he was studying in India in the 1970s, there were no fashion schools at that time. (The first fashion school to be established in India was the NIFT Delhi in 1986.) He grew up in a family that owned a sari business, SU Zariwalla. He studied at Cumballa Hill High School, a small school on Napean Sea Road in Mumbai. Going through the Vogues and Harper's Bazaar magazines that were strewn around his home and his father's office, Khan would wonder why he couldn't be like those designers, or like his father who made the most beautiful fabrics. Going to the factory with his grandfather, and watching the artisans working with amazing materials, and make beautiful embroideries sunk into his head without even knowing it was happening to him. "Somehow, I don't know how it happens, you grow up being influenced by your grandfather and father. I just knew I wanted to be a fashion designer," he says.
One time when his father was going to America to develop a business, and as Khan wasn't doing well in school and wanted to study fashion, his mother influenced his father to take him along. His mind was made up that he would go to FIT New York. However, one fortunate morning Khan's father was going for an appointment with the designer, Holston. When Holston met with Khan, he saw something in him, and gave him a job. "He said you don't need to go to school; I'll teach you. India makes the most amazing fabrics; you'll learn so much because I have seen the history of what you know from your father. He gave me a job on the spot," reminisces Khan. At 18, Khan became an assistant to one of the top fashion designers in New York in the 1980s. 
Khan is self-taught. Not knowing how to draw, he would get a bucket of roses, put the candle on, and just draw. "I would sit up till 3 o'clock. Drawing became a part of my body; I could draw a straight line without a ruler. Because we come from India I feel there is something in us which is innately to be driven," he says. Khan learnt a lot from Halston - everything from draping to designing to understanding the business. "I was very fortunate," he says. "I must say my luck has been great," he adds. After spending three years with the designer, Khan left to set up his own business. 
Khan moved to Los Angeles to start his new business. However, not knowing how to run a business at 23, it was run into the ground in eight months. "I was giving away things for free. Any actresses would come, and I would say 'don't worry. I will dress you, you don't have to pay me.' I just ran the business to the ground. And I was married and broke in one year," he says. Fashion friends from the Halston days stepped in and saved the day.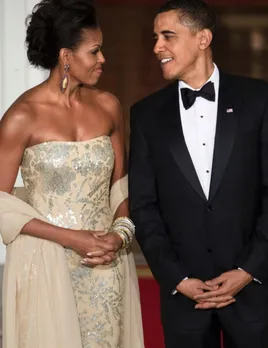 Named after his mother, Riazee was Khan's first fashion brand. His thought at the time was to understand the market, and make all his corrections through Riazee - how to merchandise, how to sell, how to set up showrooms, how to manoeuvre himself through the markets, making it more of a commercial brand than a designer brand. "Riazee was my learning experience," he says. In the 14 years that Khan ran Riazee the brand was available in 50 stores.
After running Riazee for 14 years as an incubator, Khan renamed the brand to Naeem Khan in 2003. He showed his first New York runway collection in 2007. "It was important that I did that because then there is a name behind the brand, there is a man behind the brand," he says. The high point of his career came in 2009 when "First Lady Michelle Obama chose his silver sequined gown for the administration's first state dinner at the White House in honour of Indian Prime Minister Manmohan Singh," writes Jessica Kerwin Jenkins in the book 'Naeem Khan: Embellished.' In fact, this dress will be on view at the soon-to-open Nita Mukesh Ambani Cultural Centre in Mumbai.
Today, Khan has a management team of about 40 people who run his business. His sons have joined too. His older son, Zaheer, runs the couture division, the most profitable and successful division in his company. Younger son, Shariq, is the CFO, and overlooks the whole business. Khan, as creative director, concentrates only on design.
Khan's designs are like a fantasy come true. So what inspires his designs? "I live in a fantasy world most of the time," he says. Different things influence him at different times. "So what influences me this time is history and culture and I love that. We, as human beings, change with so many things. Look at what happened during the pandemic. Fashion changed, our minds changed, and we go through all these different things in our lives. So if you break that down into happiness and marriage and different celebratory times of our lives, what goes through our minds, what colours influence you, so it is all those things that influence me. Nature influences me, great movies, and culture influence me a lot. India is always one of my biggest influences because India is such a menagerie of so many different things," he says.
Designs, handiwork and bead work are done in India, Mexico and Peru. However, the work that is done out of India is not entirely done by his family in Mumbai; it is also done at workshops in Kolkata and Delhi. "I must say that a lot is made by my family because my brothers look after my parents' operations in India, and a lot of my amazing artisans are still part of the family," he says. 
Khan has two different collections – the ready-to-wear collection and the bridal collection. The collections are available in 200 stores globally - a mix of large multi brand department stores such as Bergdorf Goodman and Neiman Marcus, and small boutiques across America, and other parts of the globe. While the bridal collection is available in 80 bridal stores, the ready-to-wear collection is available at about 110-120 ready-to-wear stores. 
Plans are to have a few Naeem Khan stores in India and the Middle East. As he has these grandeur ideas for his store, having a store, for Khan, is about how he wants the store to be run, finding the right partners and financing. For the Indian push, plans are to bring in an Indian partner for his retail business. According to Khan, Ernst & Young India is already working on finding a suitable partner for his India operations. Plans are to open three stores in India, may be in Delhi, Kolkata and Mumbai. And perhaps in the Middle East as well. "I'm not looking for a working partner, because I do things in a certain way. I will need somebody with deep pockets obviously, somebody who knows style, somebody who wants to develop high-end fashion, not street fashion," he says. "I want somebody who is willing to play the high-end game; we would develop many high end products - it could be home, jewellery, fragrances, cosmetics," he adds.
In fact in 2022, Roc Nation brought Jaipur based jeweller Sanjay Kasliwal and Khan together. (Roc Nation is Jay-Z's company who are Khan's licensing agents.) The two signed a deal last year to develop a high-end jewellery line for the American market. The implementation is to start by the middle of this year. The jewellery line will be available in high-end jewellery stores across America.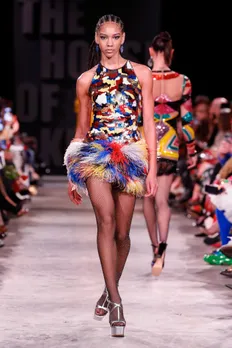 Giving back is something Khan owes to his Indian values. Growing up in a family where his mother ran an orphanage, and his father donated money to the village he came from, Khan like to be involved in what he gives. "We come from those values in India," he says. "I like the idea of being there myself," he says.
Khan manages to raise $ 1 million every year with a fashion show, for the Funjul family's Mir Foundation School in the Dominican Republic. This is Khan's eighth year visiting the Dominican Republic. The Mir Foundation School has 2,000 students. A fashion school named after him has been set up. Khan spends an afternoon with the students inspiring them with his story – how he came from a country where fashion was not even a huge part when he came to the US in the late 1970s - early 1980s. Now with all the things he knows, he works with the teachers, and talks to them about fabrics and drapes. "I can influence them from my life so that's what I do," he says. "This comes from India I grew up in. In India you learn how to share, and take care of people who don't have enough," he adds.
Lessons his parents have taught him have stayed with him. He recalls his mother telling him not to go after money. "You work hard and make the most beautiful things, and money will flow when you become incredible. Be the champion of your game,' and that's what stuck in my head," he says.