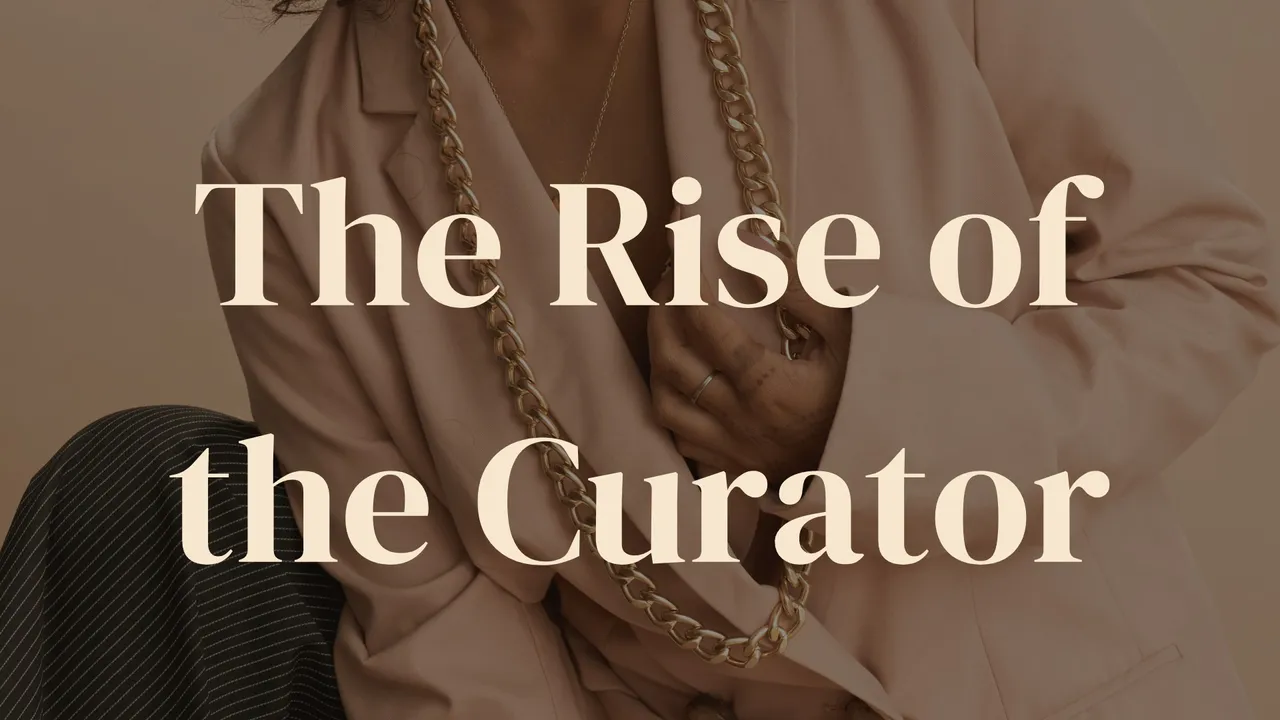 While fashion exhibitions and pop-ups are not a new phenomenon, there is certainly innovation happening in the way they are marketed. We sat down with two popular pop-ups to understand what has changed.
The Featurist: Before we get into details, tell us a little about the origins of your pop-up and the intent behind it. 
Ashmi Bhansali and Sanaa Choksi (AB & SC): We started The Living Room Story in 2019. Ironically, the name came about because the first one was held in Ashmi's living room. We started this as a casual venture – we both love fashion, we love the craftsmanship of India, and we've both been complimented for our dress sense. So, we put together 5-6 designers who had beautiful craftwork and held an exhibition for friends and family. We just put together looks that we liked – and the response we got was very encouraging. So we felt we can do more of it.
Aradhana Nagpal (AN): I'm a student of Ancient Indian Culture and Anthropology, and through my childhood, I've travelled across India with my parents. I got a chance to visit far-flung places and when I saw some of the art and craft of those areas, I was so impressed. Every time I travelled, it opened my eyes to the amazing breadth of design we have – especially products made with natural materials. So my love for these products led me to open Dhoop, a store in Khar. By that point, I was committed to work with craft from across India, especially craft made with natural ingredients that was also sustainable. In the second week of our opening, all our products sold out. That's when I knew I could do more of this.   
The Featurist: So clearly, your love for this came about organically, it wasn't pre-planned. How did you capitalize on the same? What were the challenges?
AB & SC:  Oh gosh, yes! After 2019, we held The Living Room pop-up in February 2020. From 6 designers, we moved to 15 designers, and this was the first time we held it at Peace Haven Bungalow in Bandra. The response was so good! We love that we discovered Peace Haven and today it's become synonymous as a shopping venue. And then, the pandemic hit us. That's when we knew we had to pivot our model. So in 2020, instead of a shopping event, we created a digital catalogue and circulated it virtually. We got a lot of encouragement, so we were waiting to return to a real-world experience soon enough.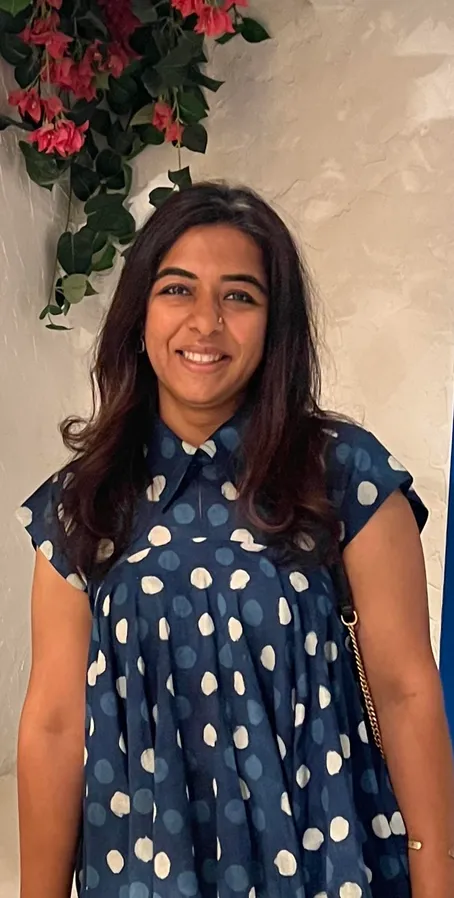 AN: Well, in hindsight, things really seem to happen for a reason. I shut down Dhoop (the physical store) in 2018, and 2 years later the pandemic hit us. But on a personal level, I was still curating arts and crafts. I catalogued 42 exhibitions for the Google Arts and Craft Project. In 2018, I was requested by Sangita Jindal to curate the JSW Craft Prize, and for two years I was involved in every aspect of that, right from getting the jury in place to designing the trophy. It was amazing to do this because I was working with crafts persons and identifying colours, trends and seasonal curations long before these became buzzwords. My agenda was always to create awareness about India's natural crafts because I recognised how much talent lay there and how much help they needed in order to be promoted in the right light. 
 The Featurist: Tell us about the changes you've gone through, in the last 2 years.
AB & SC: In 2022, we reached out to a lot of the fashion community to support us. At The Living Room Story we'd never really invited any celebrities or even sent any hampers or gift bags for any quid-pro-quo coverage – we just focused on the designers and inviting our close circles. In 2022, a lot of well-known names attended our pop-up – Anaita Shroff Adajania came, so did Shalina Nathani, Pernia Qureshi. We were so thrilled! The collaboration with Anaita Shroff Adajania was completely unexpected and so seamless – we sent her a text, thanking her for coming and asking if she would like to collaborate with us, and she said yes! Now she's an integral part of The Living Room Story – it's been 2 years and it's been amazing, so far. She has an incredible work ethic – she has her finger on the pulse of what will work, what will sell, she pushes us, she asked us some tough questions that made us add more categories – but she's also got this amazing vibe of hard work and positive energy. If we needed any help, she would roll her sleeves up and do it with us. It's collaboration in the truest sense and we can't be happier to have her on board.
Anaita Shroff Adajania: I love fashion – obviously – and I've been in the fashion world for years now. I'm always on the lookout for new designers, new innovations. When I attended The Living Room Story, I liked the passion and meticulousness with which Ashmi and Sanaa curated their designers. And I resonated with their style. So, when they asked me to collaborate, it felt so seamless! All 3 of us know that we want to nurture and propel emerging talent in the world of fashion. The Living Room Story attracts a clientele that appreciates and purchases the high-quality work that we bring together.  
AN: So I've been curating pop-ups for other destinations, as well as creating my own pop-up IPs. Araku Coffee in Bangalore asked me to curate a pop-up every weekend, so for 4 weeks, every weekend I put together a set of 10 different brands and the response was good. People who like my sensibilities have also asked me to design their homes, and Jio World Drive reached out to me to ask if I would put together an entire Night Market for them.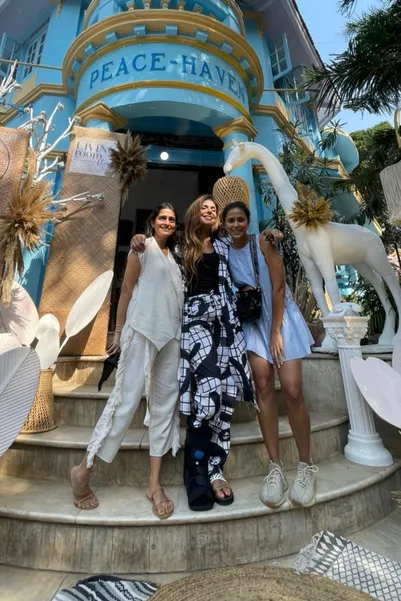 The Featurist: Aradhana, tell us a bit more about The Night Market. What was your experience of putting it together?
AN: Jio approached me to ask if I would be interested in curating a Night Market. I loved the idea immediately, especially because here was a big, international mall asking to promote Indian arts and crafts. So I knew they trusted my sensibility and my aesthetic. I was clear that I wanted brands that had the same sensibility. The team at Jio was very collaborative. I approached over 100 brands and eventually locked down on 20 of them.  I also had cocktails and food, and live music. So in that sense, this was more a shopping experience, where people could eat, drink, dance and shop, rather than an art and craft experience, and that worked for us. On the morning of the show, we had hit 20,000 registrations via our online partners! Of course 20,000 didn't attend – there wouldn't have been enough space for that! At a conservative estimate, we probably had about 4000 people, as a floating crowd. The Night Market concept itself was well-received. It started by 7 pm and wrapped up by 1:30 am and everyone, including the brands, went away happy.
The Featurist: How are you different from other older pop-ups? India is not new to them, and well-known ones have been around for a long time. What is it that makes you different, in your own words?
AB & SC:  So first off, we don't sell stall space. All 3 of us are very clear that we want to be careful with the curation because the end objective is to create a cohesive experience, in line with our quality standards. So it's not like anyone can reach out and say they want to be part of The Living Room Story. We (Ashmi and Sana) are constantly researching and evaluating new brands, whether clothes, jewellery, accessories or footwear. We know the standard of quality we want and we want to make sure our patrons, who are very discerning, get only the best. Anaita gets this, instinctively, and she brings her connections and her own personal style into the equation. When we started, we had about 80 people attend, and as of our last pop-up, we had approximately 1,800 buyers.
 AN: For me, I know that whoever I bring – whether brand or designer – has to be Indian, handmade and sustainable. Each piece has to tell a story, and it should tie back to the absolutely amazing Indian crafts that we have. I feel like everyone learns something when they visit something I have curated. At the Conscious Culture Festival in March this year, I curated a section for brands that worked with natural fibres and set up a table where people could see the actual natural fibres that went into a product. So that's really important to me, to showcase the art and craft that perhaps doesn't get as much attention, as others.
The Featurist: Thanks for your time. On a parting note, what is your dream for your pop-up and how would you like to be known, when people talk about you?
AB & SC: I hope we can take The Living Room story to different cities, and we want people to think of us as an event where they can access the finest quality of fashion that India can offer.
AN: People still remember Dhoop and what it stands for. I want to keep curating such events where we can showcase natural and sustainable Indian art and craft to everyone and get them to participate in falling in love with its beauty.