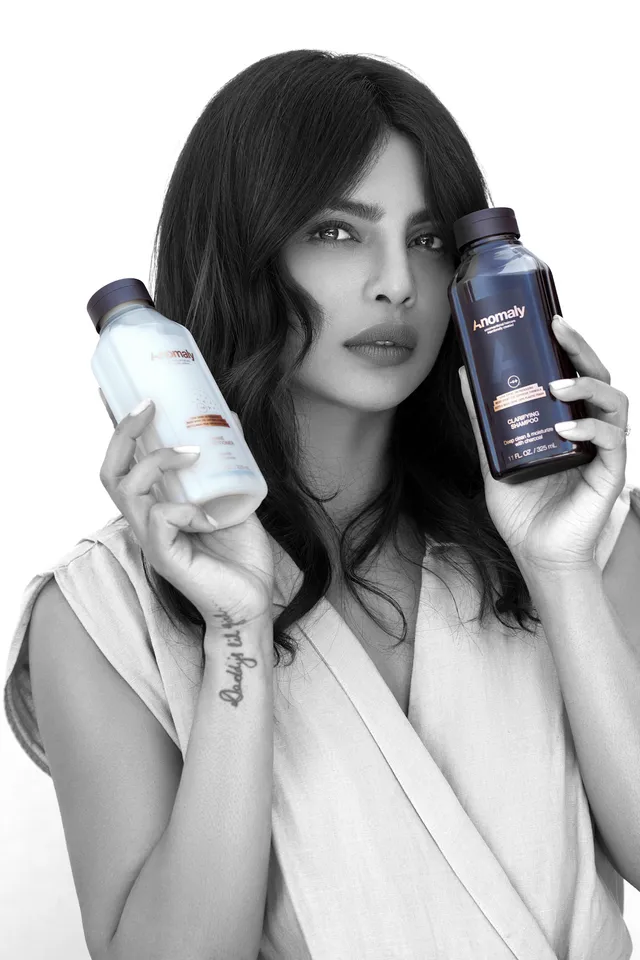 Nykaa, India's omnichannel beauty and lifestyle retailer, is on a roll. After launching cult skin care brands The Ordinary and Inde Wilde on its platform, it launched Anomaly, a hair care brand by actor Priyanka Chopra Jonas. "I'm so proud to bring Anomaly hair care to India. What makes our India launch incredibly special is that this brand was born here, from the hair care routines I followed growing up, and now it's coming home," says Priyanka Chopra Jonas, founder of Anomaly.
According to Anchit Nayar, Nykaa is committed to launching some of the most disruptive global brands on its platform. "Anomaly's philosophy aligns with Nykaa's brand positioning of 'Democratizing Beauty for All,' says Nayar, CEO, E-commerce Beauty at Nykaa. "The commonality also extends to the meeting of two power brands driven by women founders who are changing the way beauty is accessed by consumers," he adds. 
According to Chopra, "We built this brand on the idea that great hair starts first with great care, something I learned from my mom and grand mom during regular oiling, deep cleaning and conditioning routines," she says. With this in mind, and alongside her partners at Maesa, the company developed a collection of products formulated with powerful and effective ingredients. 
Anomaly is not the first of Chopra-Jonas' business interests. Chopra-Jonas' foray into business started when she got interested in the business side of entertainment and set up her production company, Purple Pebble Pictures in 2015. From there she got interested in the business of beauty. Having sat on the chairs of some of the most incredible beauty and hair experts around the world, and having used the most amazing products on her face and hair, Chopra-Jonas realised that she is the best litmus test to knowing what an excellent product should be. For her foray into beauty, the options were hair, make-up and beauty. She found the white space in the hair category. "The trifecta that we have been able to create with Anomaly is an affordable price, packaging and more on formula," she says. 
In this day and age, when we use hot tools on our hair - blow dry our hair, colour our hair, use hair extensions – "we are doing these things to our hair without giving back," says Chopra-Jonas. "The idea is to build a steady and strong foundation for your hair, so you can have the freedom to use hot tools, and do things that people like to do to their hair; people like to play with their hair without being afraid that they are going to lose it, or it's going to break. The ethos of the brand is building a foundation of your hair, which is why we don't have styling products. We only have shampoos, conditioners, dry shampoo and a serum," she adds.
The Anomaly product range is gender neutral. "We have been told for eons that men's hair care is different, and women's hair care is different. But hair doesn't discriminate. It is made of the same stuff," says Chopra-Jonas. "Sure, styling products can be different, but when we talk about hair care it is the same, because hair doesn't discriminate," she adds. 
With affordable, clean formulations and sustainable packaging, Anomaly's vision is to be 'accessible to all genders and every hair type.' In the US, the Anomaly range is priced at under $ 10. In India, it is priced in the range of ₹ 750-1,000. The collection consists of end-to-end hair care solutions such as shampoos and conditioners for different hair needs, a high-performance hair and scalp oil, and emerging product categories such as dry shampoo and bonding mask. In India, the brand is available exclusively on Nykaa's ecommerce platform, as well as its brick and mortar Nykaa Super Store. With Nykaa's deep understanding of what the Indian consumer wants, Chopra is excited to see how Anomaly grows across India under their wing.
So, is Chopra-Jonas afraid of entering a saturated market like beauty, because though it was an exciting space, it is now an overly saturated one? "I was terrified," she says. "Nobody likes failure, but I really believe that what we are a nascent brand, but we are good. We have seen that we have a very loyal consumer base, who are coming back for the product again and again. And that is really telling about where the trajectory of the brand can be," she adds. 
Chopra-Jonas has been an entrepreneur for eight years now. Anomaly is the first brand that she has founded. "My biggest learning in all my various ventures be it a restaurant, or lifestyle, or product, you can't use the same formula everywhere. Every single product or brand, or lane that you are walking in, has its own concerns, and its own problems. You can't apply a copy paste, cookie-cutter ideology; you have to start from scratch and learn all over again. I'm a student of life and I don't claim to know everything. I have made my mistakes. With my day job as an actor, I am learning to be an entrepreneur and an investor. So a sense of humility when you come into business is important. There are people who know better than me," she says.