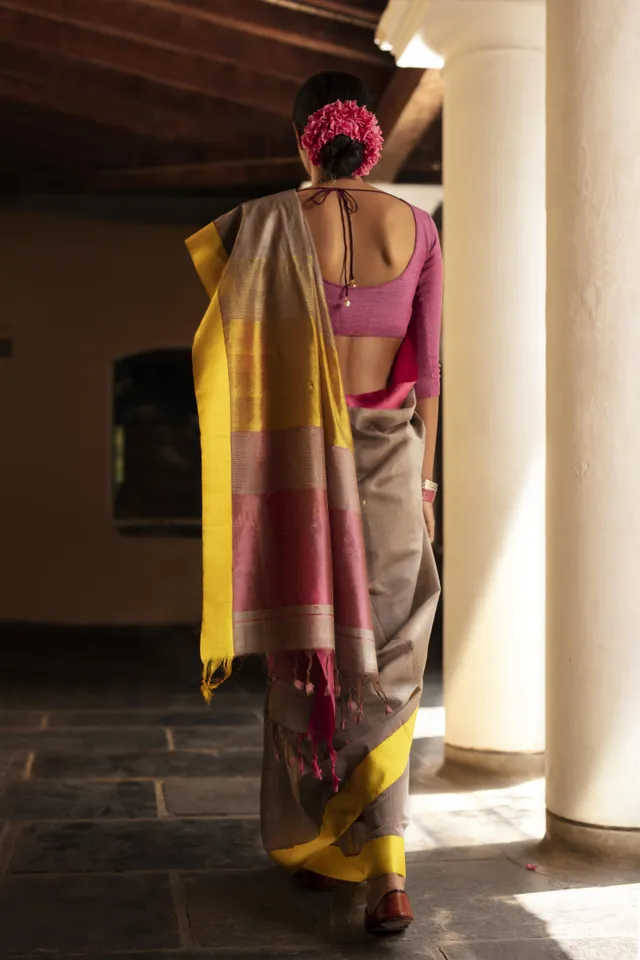 Supporting weavers and artisans has been an important issue during the pandemic. As the pandemic was underway, and the economy and life came to a standstill, it was the livelihood of those at the bottom of the economic ladder that felt the most strain. Weavers and artisans included. While the fashion community came together in support of their artisans, there are a few individuals who have been supporting weavers and artisans out of a passion they have for the country's weaving heritage.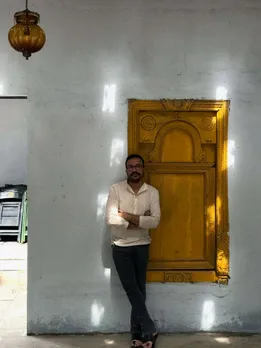 Bengaluru, India-based Manish Saksena's journey with local artisans started close to two decades ago when he was working at the Tommy Hilfiger brand in India. No, Tommy Hilfiger's product line doesn't include works by Indian artisans, but the company gave Saksena his opportunity to pursue his passion. At the time, with a presence in 70 cities, the brand was in expansion mode in India. So on his travels for work, Saksena would build it into his itinerary to explore the nearest cluster or village known for a particular hand weaving, and engage with the weavers. He didn't go with any agenda. The whole idea was to understand the craft, and see how and where he could co-create products with them.
Weavers can gauge the intention of someone approaching them with either a commercial point of view, or a non-commercial one. Typically, people approach the weavers in a commercial manner. People usually start to bargain and reduce prices, because they feel that as they have come to the weaver's source directly, they should get the product cheaper; they then later mark it up. The fact that he was going with a non-commercial mindset worked to Saksena's advantage. What intrigued the weavers was the fact that somebody wanted to invest his own money, and create highlight pieces.
Saksena was interested in creating a small number of unique pieces, or heritage / revival pieces with the weavers, an idea that excited the weavers. The weavers often narrated tales about the things that they used to make, or their fathers used to make and how now nobody wants them, or nobody buys them because they are too expensive. For instance, in Maheshwar, a weaver was a National awardee, but the kind of products that were being made there over the years were simplistic checks and stripes, with non-intricate borders. Saksena chose to work with the Maheswari weavers because he had some old pieces of his mother's which he really liked because of their simplicity and detailing.
In the rural areas, it was easier to connect with weavers in those clusters where there was no language barrier.  In clusters like Maheshwar, Banaras, or Kota, Saksena was conversant with the local language. However, it was a challenge to go down South and work with Kanchipuram weavers as he didn't speak their language.
Through a connect, Saksena found some weavers in Kanchipuram. Fortunately as there was a translator, he was able to work on a line of Kanjivarams, which had more thread work and created a corporate line, as against the typical gold and bridal look that Kanchipuram is known for. "According to me Kanjivaram is a graceful weave, but typically one only sees it in its ornate gold version jacketed as wedding wear. I wanted to create a whole corporate boardroom look, as against the bridal look, so that is what inspired me to work in this cluster," he says.
Similarly, Kota is one of those saris where it is, till date, created  only in pure zari (a type of gold thread used decoratively on Indian clothing). One is not allowed to use tested zari in the kota cluster. Hence, the weavers had started to make more and more of the zari-laden saris, because that's where they would get better recovery for their product. Therefore it had lost its simplicity and beauty. The earlier kota saris used to be very minimal, delicate and light - perfect for summers. Saksena's effort was to try and do more of the original, simpler, minimal kotas.
The Maheshwar, and the Kanchipuram cluster are the clusters that Saksena works with often. Work with the Kota cluster started in 2017 when he was invited by the Rajasthan government, specifically by Vijaya Raje, to participate at the Rajasthan Heritage week, a Rajasthan government initiative. It was a six-month activity where one would create over six months, and then showcase the products. Here he worked with the weavers to create a line which was then showcased at the Rajasthan Heritage Week. "That was interesting because then one got to create for the market for them," says Saksena.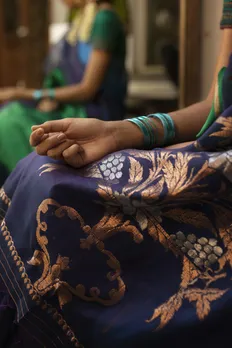 Quality issue is always there when one is working with hand crafted products. Saksena worked in a fair manner with the artisans. He paid them a fair price for their products and assured them that he would take their pieces, irrespective of how the piece looked in the end. As long as they brought him something which, in all faith, seemed to be the right value for it, he would not negotiate, and would pay them an advance upfront. Many a times there were cases where the weavers would be apprehensive about whether a colour combination would sell in the market or not. Saksena would give them the confidence that he would take it. "So that was another assurance that I tried to give them, that once I have committed to it, whatever will come out, I will take it. Unless it has a quality issue which of course knowing the handloom will have some quality issue," says Saksena.
For close to six years Saksena worked in this manner with the weavers without taking any sort of pressure to create more, just as something that he enjoyed doing. He would do an occasional pop-up of what the weavers made. In his quest for constantly looking for how to make this more meaningful, in terms of scale and business, the Aadyam Handwoven opportunity came about. Aadyam is a corporate social responsibility (CSR) initiative of the Aditya Birla group. Today, Saksena has been at the helm of the Aadyam initiative for about five years. 
Aadyam creates a self-sustaining eco system for handloom weavers. By self–sustaining, Saksena means that the company hand holds the weavers through the process and co-creates the product. The weavers are inducted into quality, and into how the product has to be delivered in time, in a perfect manner. The whole idea therefore is to again work on the lines of creating products which can be relevant for a global audience, yet create something that is very signature. While being able to identify with the craft, the idea is to make it look relevant to the entire global community, and not just India centric. 
Aadyam's product portfolio includes decorative home furnishings such as decorative cushions, table runners, rugs and curtains. Saris were introduced in 2019. On the retail front, the company opened its first store in Delhi's Khan Market in 2020 followed by another one at DLF Promenade in 2021. More recently a third store was opened in Mumbai at Phoenix Palladium mall. 
The first three years at Aadyam were more about strengthening the backend, trying to get the right set of skilled weavers, those who can help in creating great authentic products, and getting the logistics right as handloom has a lot of inherent issues and problems in terms of supply and consistency. Now with the backend streamlined, the effort is on the front end marketing. "The whole idea is not just about sponsoring the weavers, it is about creating a market so that it organically leads to more production. We want to continue reaching more and more audiences to be able to create a market for them (the weavers). So without really mindlessly creating products, we want to have a self-sustaining system where the front end has a requirement, and therefore we keep going back and making more products with them," says Saksena. 
Prior to Aadyam, Saksena spent the last two decades working with various corporates such as the Madura Garments, Landmark, Tommy Hilfiger and Calvin Klein. Working with these corporates taught him how to professionally manage a lifestyle businesses, about the fashion industry, how to understand the consumer and, in turn, how to understand retail. It was then that he felt like going back to his love for handcrafted and handloom. "I have always been interested in the sari as a category particularly, and therefore I decided to just plunge into it," he says.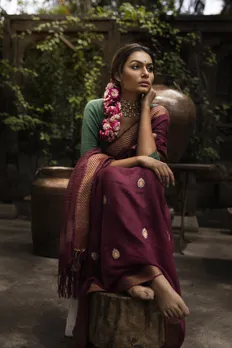 Besides his current role at Aadyam, Saksena continues to work with the weavers. His personal venture is self-funded. "I don't want to make it completely commercial," he says. "The minute I would get somebody, then I would have to meet some numbers, and targets would have to be met. I don't want to get into that. I just want to leave it at something I truly enjoy without any pressure," he adds. 
However, the popularity of handloom has been diminishing over the last few years. One of the reasons for this is the fact that handloom has been taken to a price point which is for a select few. On the product side, for a person like Saksena, if he holds the piece he can feel whether it is handloom or not. "There is a suppleness to the fabric, there is that whole detailing which once it goes through a mechanical loom it gets flattened out, whereas a handloom gives you a much better texture and patterning; it is three dimensional," he says. The power loom and auto loom brought in cheaper options that replicated handloom, which only confused the customer who got lost between differentiating the products. "Personally, I feel that the only way handloom can flourish is if it is at a price point that reaches out to more people. Because till you don't have enough consumers you cannot have the backend for it," he says.
Is it important to preserve the art of the weavers? Definitely, says Saksena. "Just like any art needs to be preserved, this also is an art. It is actually creating art; it is not a production. So one has to continue to preserve all kinds of art form, not just this. The minute one equates it to production then the meaning is lost. Look at it like a painting; there is no comparison between a painting and a digital print. So that is how this should be seen," he explains.
One of the good things that have happened in support of the weaver community are the direct to customer online spaces that have been created for the weavers. Off line platforms like Dastkaar, Paramparik Karigar went online during the pandemic and have done a fantastic job of connecting the weavers with consumers. Besides online, more and more businesses are becoming conscious, because the consumer seeks conscious impact and consumption. They should be able to credit the weavers with the right partnership. 
For Saksena, he truly enjoys engaging with artisans and handlooms. In his personal space he explores it without a business eye, because he is doing this purely for the delight. He is also creating films on the saris of India as a repository for the younger generation to imbibe in a visual medium. He has so far created films available on You tube on Maheshwar , Kota and Kanchipuram weaves.
image widget
image widget
image widget