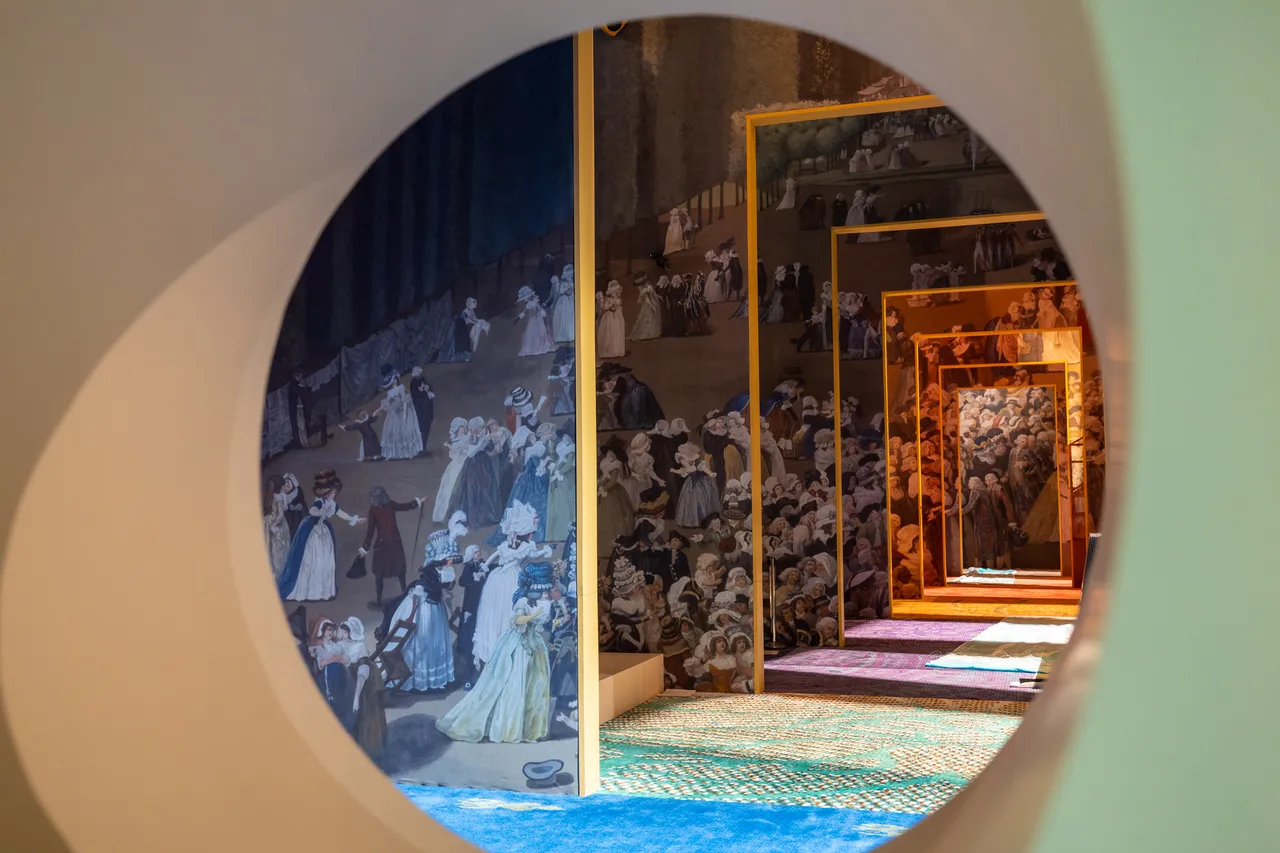 An ongoing exhibition at the recently opened Nita Mukesh Ambani Cultural Centre in Mumbai is the `India in Fashion' exhibit. Going by exhibition spaces and art spaces presently available in the country, this fashion exhibition is truly world class. What we see today is the culmination of an idea Mrs. Nita Ambani, Founder and Chairperson, Nita Mukesh Ambani Cultural Centre, had many years ago – to have a large scale format exhibition, similar to the MET, which looks at Indian influence in global fashion.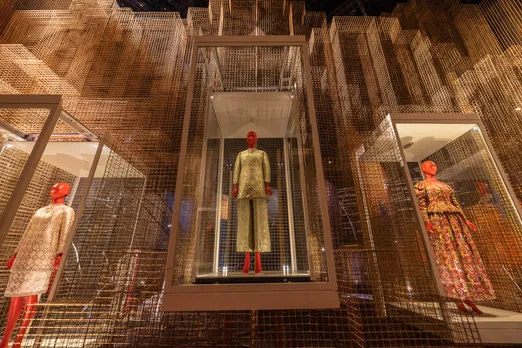 Over 140 iconic costumes have been sourced from leading couture houses such as Christian Dior, Coco Chanel, Yves Saint Laurent and Cristóbal Balenciaga, along with unseen personal collections and from prominent museums from around the world, including some monumental loans from the MET. Closer home, the works of designers such as Ritu Kumar, Tarun Tahiliani, Abu Jani Sandeep Khosla, Sabyasachi Mukherjee, Manish Malhotra and Rahul Mishra, amongst others, find their place in this larger-than-life exhibit. The costumes are on loan from almost 14 different museums and private collections.
Much of the exhibition is based on the book 'India in Fashion: The Impact of Indian Dress and Textiles on the Fashionable Imagination,' written by Hamish Bowles, prolific author and costume art expert. The idea of the exhibition was predominately that it would showcase India's influence on fashion through the 18th century to contemporary times, looking at different things like textiles, embroidery, craftsmanship, silhouettes, and drapes, and seeing how different kinds of Western designers and brands looked at India through that time period. The first-of-its-kind costume art exhibit in India was Bowles's curation and designed by director, and set and costume designer Patrick Kinmonth with Mumbai based architect Rooshad Shroff. The idea was for Kinmonth and Shroff to work within the context of what Bowles had outlined in the book. "By the time they reached out to us, at that point they already had the premise of the exhibition set up, which was much more in the format of the book, which was broken up into a number of chapters," says Rooshad Shroff, principal architect, Rooshad Shroff Architecture + Design. 
Getting such exclusive exhibits on loans from museums has its own set of restrictions. So prior to agreeing to give an exhibit, many of the museums have specific loan requirements which have to be met with. For example, each exhibit needs to be in a certain humidity controlled environment. "The Centre is built to perfect museum specifications that allows for that kind of product to be displayed," says Shroff. Second, is in terms of lighting, it has to be under 50 lx, while some have to be under 30 lx. 
Third, from a preservation perspective, and absolutely a museum requirement is the fact that they have to be enclosed. As a second layer of security, each of these exhibits have to be in a vitrine. Now if a vitrine is a circle or square or diamond shape that is much more of a design call. The vitrine, or cubicle is just to ensure the safety of the exhibit; that nobody touches it, there is no direct AC draft, etc. In fact, according to Shroff, a year ago before even the exhibits were finalized, reports that had to go to the museums in terms of the Centre's HVAC system, which had to be running for a minimum of three months at a stretch to get temperature recordings and make sure there is consistency of the temperature. "More than high or low temperature, the temperature needed to be absolutely constant; it couldn't fluctuate. So those kind of reports needed to go to the museum as well, to give them the satisfaction that these specs would work with their exhibits," says Shroff.
The exhibits are almost like mini celebrities. Each comes with its own entourage of people. Once they are packed by the museum, there is a special conservator and a dresser who travel with each of these garments; only can they remove the item from the crate, touch them, and dress them. From a conservation perspective, each garment has to be handled in a specific way. 
So how do you work with so many specifications? While Shroff has not worked on a project such as this before, he feels that working with the restrictions was the good part of the project. "There was a great learning," he says.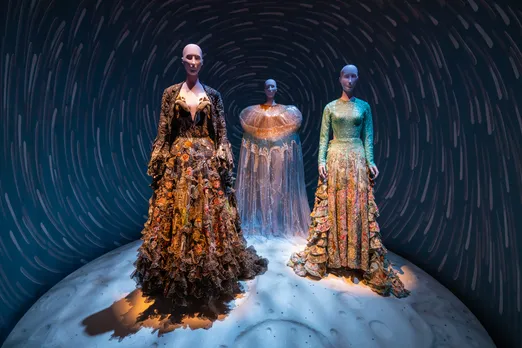 When Kinmonth and Shroff started off, they already knew, through the book, that they would have different kinds of areas or zones, which were defined by the chapters in the book. What was interesting here was that they were given a footprint of approximately 50,000 ft² close to column free space – according to Shroff there are only four large columns in the entire space – and a ceiling height of 12 m. "So what we were allowed to do in this kind of space was quite different from typically if you were given a museum space where you are dictated by the architecture, and the volume of each of those areas. Here it really allowed us to create zones, which could also be tailor-made to the actual requirement of the particular space," says Shroff. 
The exhibition shows how the influence evolved from being more textile related, whether it was chintz, muslin, or cashmere shawls. In the 1920s and 30s the influence started changing into drapes and saris, then batik and tie-dye, then patchwork and the embellishment of the embroidery. That is how each of the zones were worked on. "Each of them lends itself to a scenography which works with an architectural reference as well as a historical reference," says Shroff. 
The architecture of each zone doesn't always become a backdrop to the clothes, but it also make sense to the time period. So for example, one of the first areas that you enter in references chintz and the importance of chintz. That was set in a Mughal garden space. When you go into the Chanel space, it is referencing Chanel's first store in Paris where Coco Chanel is walking down the staircase with faceted mirrors. Or the Jantar Mantar in the Hippy Trail. The idea of the Jantar Mantar was that in the 1960s and 1970s when post-war people from the West came into India for alternative reality or finding themselves during the Flower Power period, they came into India via Nepal, through Jaipur. 
This is the first time that a costume art exhibition, especially on this scale, has taken place in India. One of the main reasons for such a show now was because "we didn't have a shell that also has this kind of technical specifications that any of these items require on loan," says Shroff. 
The exhibition is on till 4 June, 2023. It is unlikely that it will be extended as all the clothes need to be returned to their respective museums and countries. Also, there is the importance of sending everything back prior to the monsoons kicking in, which will bring with it a fear of increased humidity fluctuations during logistics of movement from the Centre to their respective countries. If you haven't seen it as yet, then do go; it is definitely worth it.