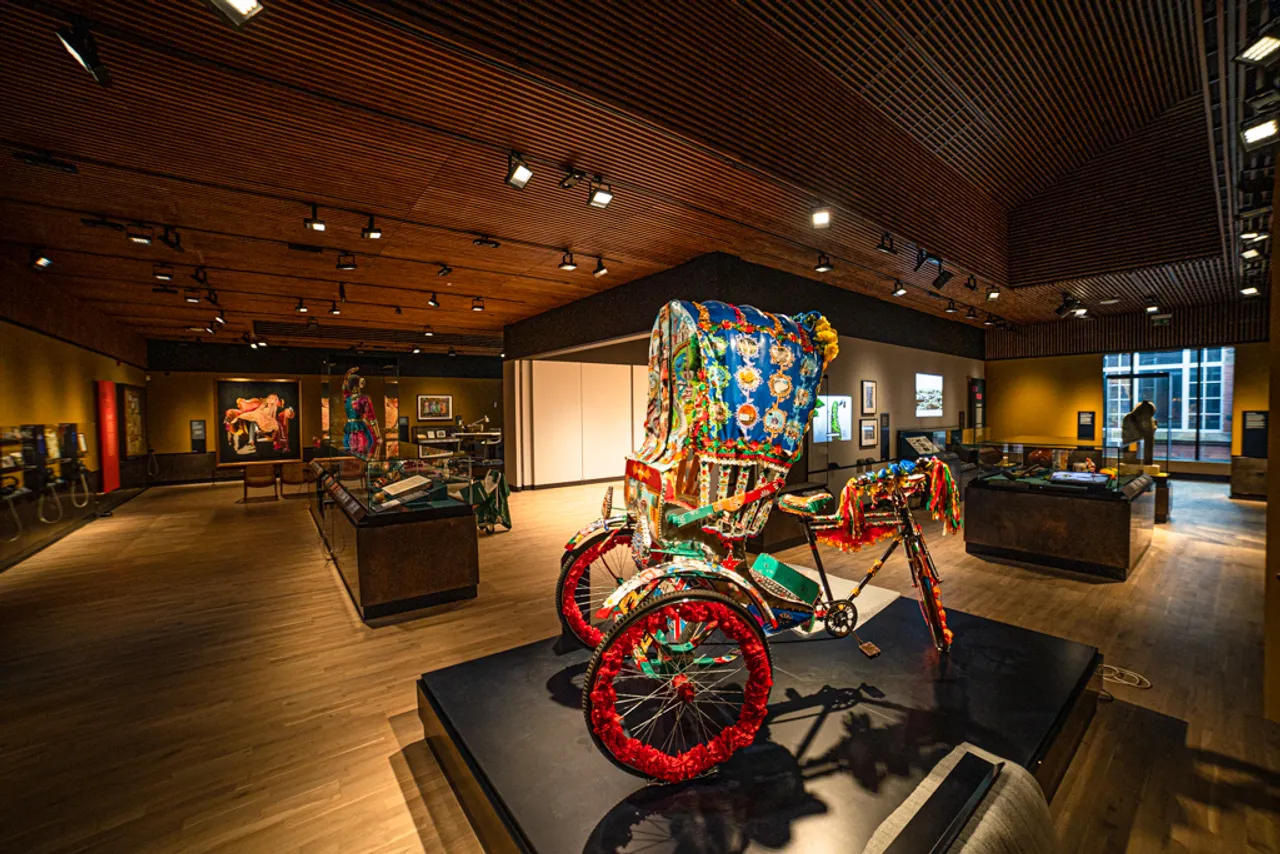 The Manchester Museum's new South Asia Gallery is a partnership with the British Museum, and is the first permanent multi-lingual gallery in the UK dedicated to the experiences and histories of the South Asian diaspora communities. The gallery was co-curated by the South Asia Gallery Collective, a group of 30 inspiring individuals including community leaders, educators, artists, historians, journalists and musicians. The gallery showcases both historic artefacts from the collections of the two museums, as well as new contemporary commissions and personal objects provided by the collective. As you enter the Gallery, you see the mural of the Singh Twins – an emotional map of South Asia, but also smaller emotive pieces such as a passport of the wife of an early expat to Kenya simply titled a 'purdah lady'.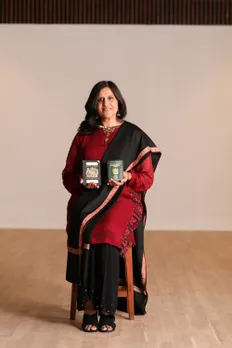 The South Asia gallery is a museum gallery like no other. I would definitely recommend a visit if you are in the Manchester area. From a concept in 2018, navigating Covid, the British Museum and Manchester Museum worked together with the 30 member South Asia collective to bring this ambitious exhibit to life telling meaningful stories of what it means to be South Asian from their own lived experiences.
Deepa Thomas-Sutcliffe (DTS) sat down with Nusrat Ahmed (NA), the gallery's Community Produce and curator, to learn more about this pioneering gallery. 
DTS: Can you share the concept behind setting up the permanent South Asia gallery?
NA: There is a large community of people of South Asian heritage in Greater Manchester, and it's important that museums reflect and work for the cities they serve. When the idea for the gallery was first discussed, it was going to be designed chronologically, but in 2018 Esme Ward became Director of Manchester Museum and this was an opportunity to reflect on the development of the gallery. She asked, is the gallery as imaginative, inclusive and caring as it could possibly be? This motivated a co-curation approach and the South Asia Gallery Collective was formed. The Collective is made up of 30 individuals, mostly of South Asian heritage, and they have contributed their personal stories and objects to the gallery. By drawing upon collections and diverse cultural perspectives, museums can help to build better understanding between cultures and become more relevant to the communities they serve.
DTS: Any background information on the role of Manchester during British rule over India?
NA: The South Asia Gallery Collective has grappled with difficult and often traumatic subjects during the co-curation process and one of the anthologies you will see is called 'Movement and Empire'.
Many South Asian people living in Greater Manchester are here because of the Partition of British India into India and Pakistan in 1947, a dark moment in the history of the British Empire in which millions of people were displaced.  We don't shy away from these difficult stories.
Talat, a member of the Collective, has loaned his great-grandfather's World War 1 uniform for this section of the display. He found the uniform in a trunk at his family's home, and this is part of a story that recognises the South Asian contribution to international wars, which all too often go overlooked.
DTS: What are the more current Indian connections with Manchester?
 NA: There are lots of contemporary objects in the gallery. For example, it shows the evolution of music and dance through objects, and how they are used in the evolving tradition of teaching and learning South Asian performing arts. We are thrilled to have a pair of tablas in the gallery that belonged to Ustad Alla Rakha who is considered the finest Indian tabla player in the 20th century.
Michelle Oliver, one of the Collective, is an Anglo-Indian artist and we display one of her collages in the gallery. Michelle says that growing up in Manchester and not seeing her heritage/identity reflected in galleries motivated her to take part in this project and make her MiscegeNation body of work. She hopes this work can be relevant to anyone who feels unrepresented or invisible, not just Anglo-Indians and other mixed-race people.
DTS: Highlight 5 key pieces from India and tell us why they were chosen.
NA: In the Lived Environments section of the gallery we present a Water Pot c. 1980 from Gujarat (India) showcasing that reusable earthenware pots are used all over South Asia as domestic water coolers. Although these pots can be dated back to early civilisations, they are still used today and can be found in houses not only in India, but other parts of South Asia too.  Also in the gallery is an Indian plate made with dried leaves stitched together with tiny wooden sticks, which are still sometimes used today as biodegradable alternatives to plastic plates.  These objects show that natural materials are commonly used in daily life across South Asia and highlights what we can learn from the region in terms of sustainability.  
In the Past and Present section, we look at the impact of Gandhi's visit to the cotton mill town of Darwen, United Kingdom, in 1931 as a way to connect the local cotton industry to Manchester to the independence movement in India. A miniature model of a Charkha spinning wheel, a symbol of self-sufficiency for Mahatma Gandhi and the Indian independence movement in the 20th Century, illustrates this fascinating story.
The gallery also showcases the South Asian contribution to computers, mathematical or scientific instruments, astrolabes, zodiac coins and more, as a way of showing the ingenuity and creative thinking embedded in South Asian culture that have generated the many inventions that we take for granted over time. For example, photographs from the World Meteorological Association show Anna Mani (1918-2001), an Indian physicist and meteorologist, who developed many important tools to precisely measure the weather. An Indian mathematician and physicist Satyendra Nath Bose (1894-1974) is best known as the father of quantum statistics – his grandson is a member of the collective and created his Grandfather's archive – and we have facsimiles of his grandfather's correspondence with Albert Einstein.
DTS: South Asia is a vast area covering six or seven countries. How did you balance ensuring representation from various countries and cultures in the gallery? 
NA: We've worked with 30 co-curators to bring their lived experience and stories to the gallery. The gallery is divided into themes including Lived Environments, Movement and Empire, Sound Music and Dance, and more, so it really represents the richness and the diversity of the region.  Across the anthologies are diverse objects from a rickshaw imported from Bangladesh and decorated in Manchester, to a seven-foot-tall self-portrait by Azraa Motala exploring what it means to be British Asian today. Spectacular and historic objects from the British Museum further illuminate the Collective's stories. It's impossible to capture everything about South Asia in one gallery though, which is why this space will continue to evolve and we'll continue to co-curate and collaborate with new people moving forwards so that we can represent different cultures and countries. 
DTS: Tell us about the concept behind the Singh Twins' mural.
NA: When visitors first enter the gallery, they will be met with a beautiful new commission from The Singh Twins. It is an 'emotional map' of South Asia, and reflects the Twins' own identity and experience as British artists of dual Indian and English descent. It also explores inter-connected and hidden histories which challenge institutionalised prejudice, negative racial stereotyping and misperceptions about cultural identity and ownership. It examines the transition of South Asia from ancient, through British colonialism and into post-colonial modern times. It sets the tone for the rest of the gallery as these narratives are woven throughout the displays.
DTS: What's next for the Museum and South Asia Gallery?
NA: Although the gallery is permanent it will continue to evolve and change – in the future, we want to work with new people who can tell stories from other countries in South Asia. We'll have performances, films and activities in a space at the heart of the gallery. And the gallery itself will continue to evolve over time as we collaborate with new people. The museum is also now doing lots of positive work with global communities. For example, we recently launched RhythmXChange, a year-long collaborative project conceived by Indian Music Experience Museum, Bengaluru and Manchester Museum supported by the British Council. The project brought together four young musician mentees under a mentorship program to explore rhythm as a shared language between East and West.
Deepa Thomas-Sutcliffe is a Manchester, UK based communications professional, and host of the Meet the Mancunian podcast: social impact stories from Manchester (www.meetthemancunian.co.uk)