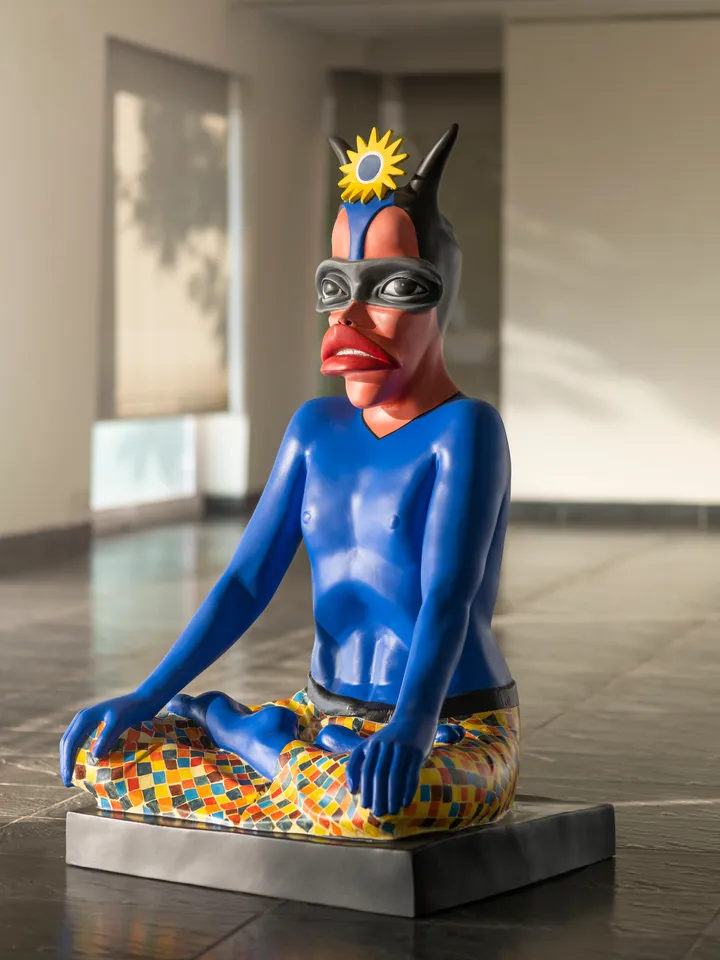 If you look at the work of fashion entrepreneur-cum-artist Viraj Khanna, you would find it difficult to believe that he made this body of work during the pandemic, and has not done anything creative before that. Opening this week end at Mumbai's Tao Art Gallery is the entrepreneur-cum-artist's second solo show titled, `What my mother didn't teach me... And a few things she did.'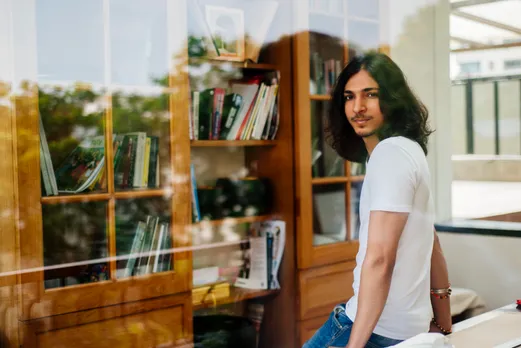 Sanjana Shah, creative director at Tao Art Gallery, first saw Khanna's work at his first solo show in Kolkata in July 2020. Completely floored by what she saw, she planned to show his works in Mumbai since January 2022. However, the show had to be postponed due to the advent of Omicron. Now the show is finally in Mumbai. The Mumbai show will show paintings, art works in embroidery, sculptures and NFTs.
According to Shah, each of Khanna's works is powerful. "His work doesn't look cluttered; he is able to channel the chaos of colours and patterns," she says. "His sculptures are very pop, yet classical. Fascinating synergy between past and current. There is an element of showing the contemporary obsession with appearances through thick lips and exaggerated body types. A bit of cubism and collage work where a Hannah Hoch influence can also be seen. His work can definitely appeal to the global community," she adds.
The son of fashion designer Anamika Khanna, Viraj returned to Kolkata, India, in 2018 after graduating from the University of Southern California, USA. Since then Viraj and his brother Vishesh worked with their mother for two and a half years. During this time they launched the designer's pret label, AK-OK. Till the pandemic hit, Viraj was busy looking after the business management and marketing functions at the brand. However, the pandemic in 2020 brought work to a standstill. This is when he started looking at doing something creative. "So 2020 during the lockdown was the first time I decided to make something; I tried to make collages. That is the first step," says Viraj Khanna. Initially, the collages, as a concept, were made for the Anamika Khanna Instagram page. He had close to 500 fashion magazines at home. He cut up a few things, made some small figures, and shared it on the page. The response to this work was encouraging. Seeing this work, Somak Mitra, owner of Kolkata based art gallery, Gallery Art Exposure, called Khanna for a meeting and asked him to do a show. "I had never made a sculpture before that, or a painting. Somak said we are doing a show in a couple of months so start preparing. That's pretty much how I decided to jump into it totally," says Khanna.
For his part, Mitra understood that sculptures can be Khanna's strong point. So he encouraged the artist to make single point editions of his sculptures, so there is no second sculpture of the one. Khanna's first solo show in Kolkata in July 2020, was sold out – very unusual for a new artist. In his first solo show he had about 12 sculptures of which two sculptures were very sought after – one was a cow and the other a face. Everyone wanted a replica of them. But, according to Mitra, duplication starves the artist. "Viraj is self-taught. He does amazing sculptures. His work is very unconventional. In India we don't have too many artists who make sculptures. For a young artist, he has no baggage, no formal art education, so he is free to do whatever he likes," says Mitra. "Coming from a well to do family, he doesn't have to paint to earn. This works in his favour. As he is not doing this for the money, so he is free to do what he wants to do. This has played in his favour," he adds.
So how did he manage to put his first show together? Where did his creative ideas come from? Though Khanna has not had any formal introduction into art, he has been surrounded by textiles his whole life. In fact, on the business side, he looked into the embroidery and finance part of the business. Surrounded by textiles and different kinds of handcraft work such as ari and zardosi work, "the concept of embroidery, I will say, is very similar to a collage," says Khanna. "In embroidery too, when you're experimenting, you are putting things together and experimenting.  Even in the collages, I am experimenting and putting things together. My sculptures are actually transformations of the collages," he adds.
For Khanna, the collage was the experimental process - cutting different parts, elements and objects, playing around with them and putting them together. When he thinks he is ready with the collage, that's when he turns it into a sculpture as that becomes a prototype. Hence, the sculptures are very different, and in block colours, as his process of creating a prototype is an experimental one.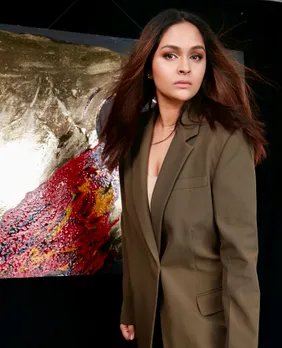 Khanna's sculptures are made of fiberglass, painted with acrylic, and/or automotive paint. However, this show has works with hand embroidery, something which he did not do for the first show. "For the first show I was recommended that I keep fashion and art different. It's not very easy, especially in Kolkata where there is a shadow that we are Anamika Khanna's twins, that's what people call us," says Khanna. "It's not a complaint, but to create my own identity I want to do something totally unrelated. So for the first show I never used any textile and embroidery, but for this show I'm doing it. Hence the title of the show, 'What my mother didn't teach me … And a few things she did,'" he adds.
Along with his sculptures and paintings, Khanna is also launching three NFTs in Mumbai. He will be putting up digital screens at the gallery and playing the NFT. People can purchase it with the digital screen, and keep at their homes. Just like you put up art in your room, you can have the NFT moving in a constantly digital screen.
Khanna's paintings are priced between Rs1.5 to 3 lakh, works with textile are in the range of Rs4 to 6 lakh. Sculptures are priced the range of Rs4 to 5lakh.
Khanna now divides his time equally between work and art. Though the art started as a hobby, he has grown passionate about it, and plans to take it up as a separate career. As he has not had any formal education in art, Khanna now wants to see what a formal education can do. He has already applied to a few fine arts programmes in the US. Till that happens, Khanna will be having another show at New Delhi's Bikaner House. The Mumbai show will be on till April 3. Do drop by and have a look. You will not be disappointed.