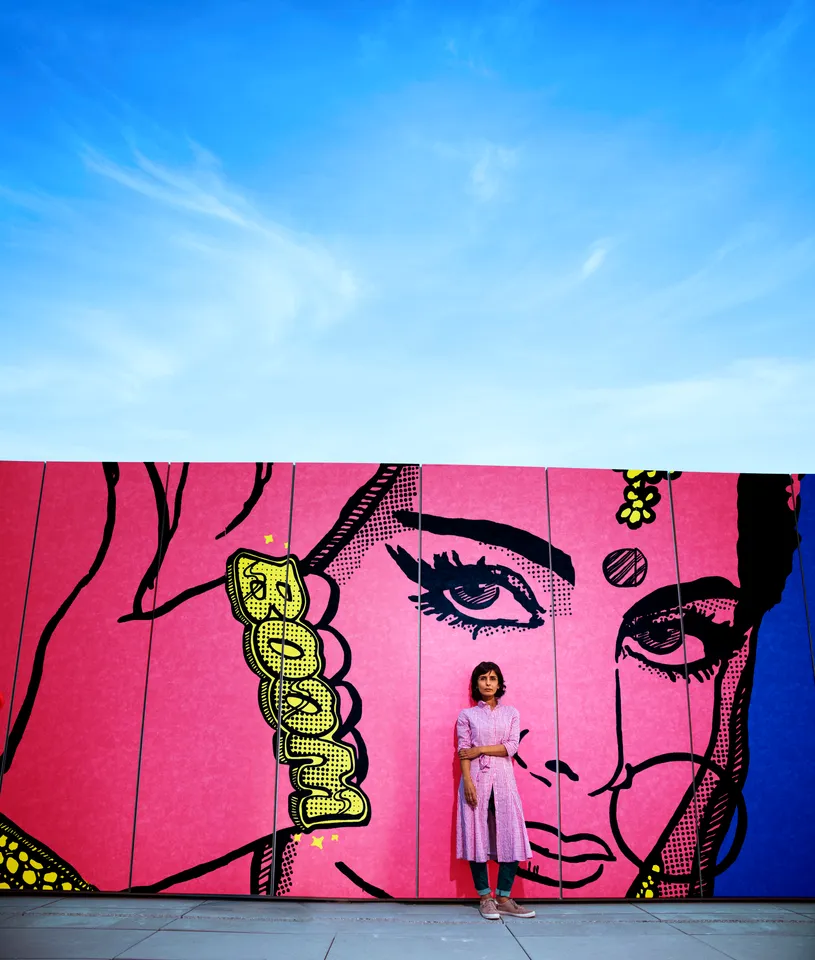 ⁠⁠⁠⁠⁠⁠⁠Recently, Mumbai, India-based street artist Jas Charanjiva's art work titled, 'Don't mess with me,' featuring The Pink Lady, has found space on the art wall on the terrace of the San Francisco, CA, USA- based Asian Art Museum. Charanjiva created the Pink Lady in 2013, in the aftermath of the Nirbhaya rape case. "Just like everyone, I was so angry. I was also questioning more and more why punishment didn't always reflect the crime in cases of gender violence," she says.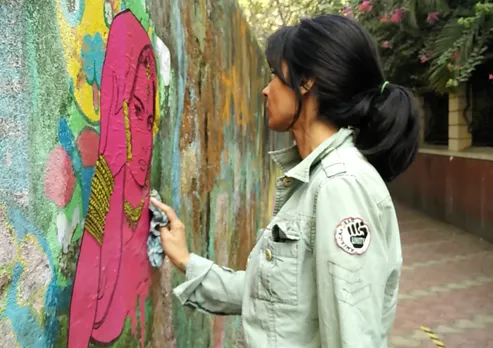 Fast forward to 2019. On a trip to San Francisco, Charanjiva wrote on her Facebook status that she was looking for a big wall in San Francisco to paint the Pink Lady. So she put a photo-shopped image of the Pink Lady the way she wanted her, on her Facebook wall. Messages poured in. One of those who replied was Karin Oen, associate curator of Contemporary Art at the Asian Art Museum (AAM), San Francisco. Oen was so determined to get in touch with Charanjiva that she also sent her an email. Oen first saw the Pink Lady on her visit to Mumbai in 2017, where she saw a little sticker that Charanjiva had put up outside Leopold Café in Mumbai's Colaba area. The Asian Art Museum is taking a different approach to curation, one that will bring the museum into the 21st century. The Pink Lady (officially known as 'Don't Mess with Me') on the new art terrace is a good representation of that. Abby Chen, head of Contemporary Art and senior associate curator at the AAM is the one who made it all possible.
Charanjiva first painted the Pink Lady titled, `Don't Mess with Me' in the aftermath of the Nirbhaya rape case in 2013. At this time, Charanjiva and her co-founders (husband Arjun Charanjiva and friend Kunal Anand) were setting up their studio and store called Kulture Shop - graphic artist shop to sell art works and products by upcoming artists. For the opening of the store, different artists were invited to create art around different themes, one of which was traditional vs. modern. As the Nirbhaya case was very much in her blood, she thought of painting a woman in traditional Indian attire, with a modern attitude. Charanjiva painted the lady with brass knuckles, implying the modern attitude. On the brass knuckles was the word `Boom,' implying readiness to fight. "Boom is also something you will say when you are victorious, when you accomplish something," says Charanjiva. "Many may not notice it, but because of the way she's pulling her dupatta, her hand is shaped like a thumbs up. Perhaps this is my way to subconsciously give young girls walking by on their daily route a sense of hope, telling them that we will prevail. I wanted to make sure that she looks strong and firm, which is why her lips are pursed tightly, while her eyes look warm and wise. I wanted her to be a character that feels like a protector, and one that you really want to respect," she says. Charanjiva created the Pink Lady successfully, because in her mind she knew that she really belonged on the street.
Being a street artist, Charanjiva tends to naturally create art that is quite simple. "Taking an idea with so many thoughts and emotions behind it, then having to pare it down to a very simple visual where the concept can be grasped very quickly; because with street art one has to be able to understand it when you are walking or you are driving by," she adds.
Charanjiva grew up in Fairfield, CA, a 45 minute drive from San Francisco. During the late 1990s, she lived in San Francisco for five years in the city's Western Edition neighbourhood on Divisidero Street. At the time, this was a cool neighbourhood with many boutiques, but no high street shops, like say, Gap. There was an independently owned record shop, which had a painted window display with a big wooden board with an album cover painted on it. Charanjiva asked the owner if she could paint the next album cover. The owner agreed. The Church of John Coltrane was across the street from where she was painting at the record store (it has moved since then), and many people were listening to jazz on the street. "All of a sudden I had this urge to speak to these people (across the street) through my art. I wanted to connect with them, and I wanted them to connect with me as someone who has so many thoughts about life and humanity. That was my turning point where I realized that this is already what I try to do, and I should embrace it and focus on it as an artist. Social media as we know it didn't exist at that time. The streets were the answer to my desire to have my views, and perspectives on display for everyone and anyone walking by to see my art at any time of the day or night. It was then, standing inside the window display looking out into the world, that I solidified my purpose as an artist," says Charanjiva.
What excited Charanjiva about street art is the fact that oftentimes it is unsolicited art. Having been always attracted to rebellious creativity, breaking the rules, challenging the norm in order to change things that later will be embraced by a larger group, was exciting. With street art, people can stumble upon someone's creative moment without having to walk into a gallery or pay admission. "So maybe just doing traditional work on canvas wouldn't have been enough for me. I want to share my views with the world. I always wanted to outwardly express these things that are inside me, and street art is people enjoying your work, standing in front of your work at any time of the day or night," she adds.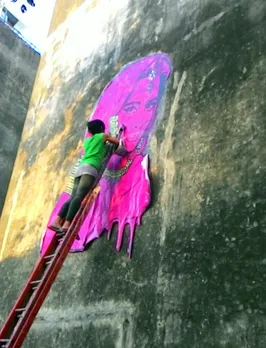 How is street art done? Most common materials and methods used for street art are painting with spray cans (whether spraying with or without a stencil); painting with fast drying latex paint using a brush and/or rollers; stickers; and wheatpasting. To recreate the Pink Lady as a mural, Charanjiva hand painted her by projecting her image on the wall so that she is perfectly accurate and then she used paint, brushes and rollers. Charanjiva tends to work by herself, however large the wall. Most often though, she pastes up smaller versions of the Pink Lady through stickering or wheatpasting, so she can go around and quickly put her up. For wheatpasting, Charanjiva takes printouts of the Pink Lady and creates an adhesive paste of white flour, bowling water and raw sugar. Though made of organic ingredients, as it has to hold up the art work in the outdoors, the paste is a strong one.

Charanjiva pastes the Pink Lady up every year, or year and half, around the time of the anniversary of the 2013 case. However, when the juvenile in the Nirbhaya case got out after three years, Charanjiva decided to make a point. Till now the Pink Lady was always quietly on the wall. However, this time Charanjiva gave her a speech bubble saying, 'Justice we're coming for it.' While the Pink Lady is good being a standalone piece of art, she is also good with speech bubbles. She says enough with the `boom' and her attitude.
Charanjiva also wants to make the Pink Lady speak in local languages, for the non-English speaking population. So in December 2019, she made a younger character called 'Boom Junior,' who holds a school book with `Boom' written on it. With Boom Jr., the little school girl character she created (after an incident she witnessed outside Mumbai's Regal Cinema), Charanjiva wants to create totebags, t-shirts, stationery items, etc. with a variety of illustrations of Boom Jr. rejecting patriarchy. Right now Charanjiva is working on putting out an NFT collection of the Pink Lady. Here is hoping that Charanjiva gives voice to so many silent ones that we see around us.