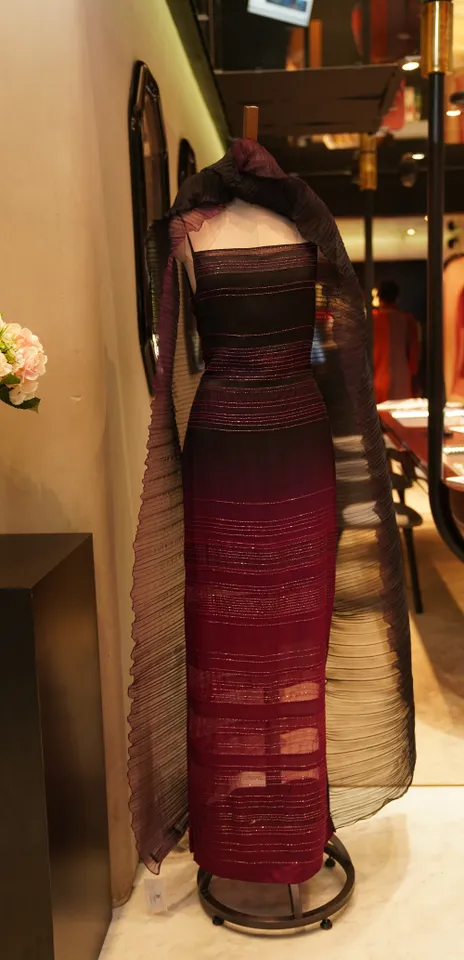 An unfortunate car accident in the year 2000 had completely changed Indian fashion designer Hemant Trevedi's life. The accident put the brakes on a successful career. After the slow road to recovery, and two decades later, he is back to business. With the backing of Mumbai based luxury fashion house, Purple Style Labs (PSL), Trevedi recently launched his new collection. "It feels like a new life. New birth. New world," says fashion designer Hemant Trevedi.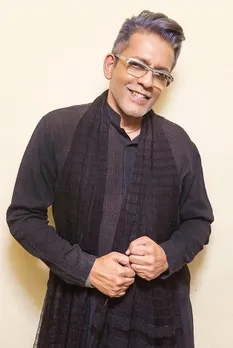 Trevedi's comeback collection, titled Paradoxical Shadows, depicting the horizontal line, speaks about his near death experience, and return from that point. "That is the paradox that when you look at a line like this there is still life at the end of the tunnel, for me, for clothing per se, and for the time that we are in, which is why when everything was dark and everyone was giving up on themselves this is the paradox of celebrating it again," he says. Although it may look fairly simple to some people, Paradoxical Shadows, as a collection, was one of the most challenging and difficult collections Trevedi has done. The 30 pieces collection was developed in three months' time. The entire collection was conceived and developed during the lockdown. It wasn't easy trying to do things online, speaking to masters, dyers fabric suppliers on phone calls, getting and sourcing things from the back door. Priced at Rs3,400 – Rs56,900, the collection is available online on his website hemanttrevedi.com, Pernia's Pop-Up Shop, and the two Pernia's Pop-Up Shop retail outlets in Mumbai.
Trevedi's association with PSL started in December 2020 when director & CEO Abhishek Agarwal called Trevedi and told him that he would like to get him on board. PSL is a Mumbai based luxury fashion house that helps Indian designers scale their businesses efficiently, and also injects technology and data management into the industry to reconstruct its DNA. In 2019, the company had acquired Pernia's Pop-up Shop, a multi-brand e-commerce website which houses over 500 Indian designer brands, and the Wendell Rodricks label in 2020. The Hemant Trevedi label is the third label in the company's portfolio. According to Agarwal, it was a matter of the right place and right time which led to the partnership. "Legacy brands tend to have a higher brand recall and richer design library. We had met Hemant to explore working together and it seemed like a wise decision for PSL to collaborate to launch a retail line for Hemant Trevedi Label," he says.
PSL has secured all rights in the 'Hemant Trevedi' brand. Trevedi will act as creative-head of the Hemant Trevedi business vertical. With PSL, Trevedi will have his own label - Hemant Trevedi. He gets his own design studio, an organized set up of merchandisers, marketing team and PR from PSL. Trevedi is with PSL for the next 3-5 years. After which he has the option of leaving, or they have the option of asking him to go. "For someone at this point of life being told that I have my own label on my own clothes, what more can you ask for," he says.
With PSL acquiring Pernia's Pop-Up Shop, Wendell Rodricks and Hemant Trevedi, is also corporatization of the Indian fashion designer. "We are artists. We are creative people. All of us are not money minded businessmen who know how to make a business grow. This was my biggest downfall as India's first internationally trained designer who never got that kind of promotion. If a company like this, of excellent businessmen and women, are able to do this for you, how wonderful is that," he says.
Hemant Trevedi was a household name in the Indian fashion industry in the early 1980s. An alumnus of the Australian Technical Institute of Fashion Design in Perth, Australia, and the Fashion Institute of Technology, New York, USA, he was India's first internationally qualified fashion designer. He has always nurtured design talent and contributed to the growth of fashion. With his extensive experience in the field, in 1987, he was invited by the Ministry of Textiles to join the National Institute of Fashion Technology (NIFT) to develop its teaching programmes.
In the 1990s, he worked for Sheetal, a clothing company that catered to a large Non Resident Indian (NRI) clientele for bridal wear. In the years that he was with the company, he set up the first ever design studio in the country where talented young student designers could intern or work. The two then parted ways due to some hiccups.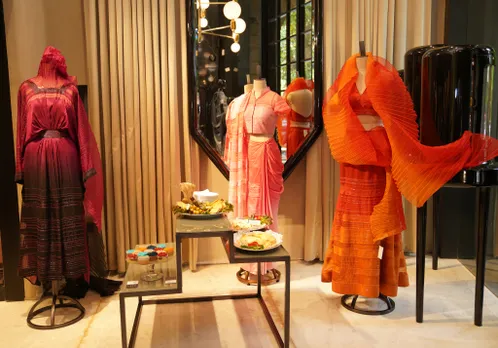 After his near death experience in 2000, Trevedi is still healing. Whether it is his eyesight, or the way he walks (he can't run anymore), it is gradual till the mental makeup gets stronger. Yet, he has been busy showing at international fairs. He has also immersed himself in fashion education.
For Trevedi, to be back, to be noticed and be promoted like this after so many years, at this point in time, is a bit overwhelming, and extremely humbling. "It's very humbling and grateful feeling to be in this position," he says. "PSL is still young and learning. In that process of learning if they want to grow with senior stalwarts like me I think it's a wonderful compliment, and recognition about my worth as a human being," he adds.