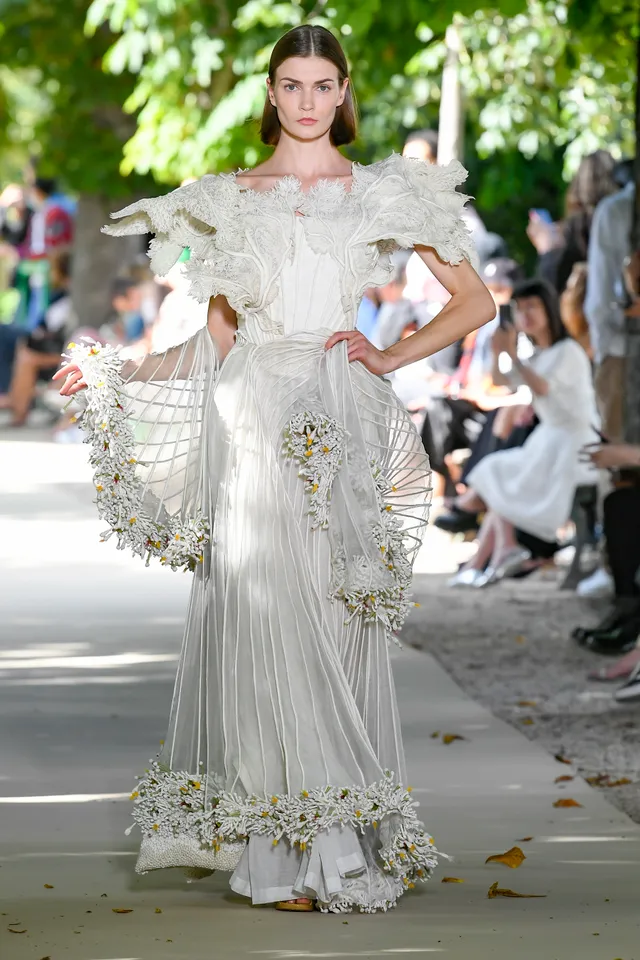 Recently, Indian fashion designer Vaishali Shadangule became the first Indian woman fashion designer invited by the Fédération de la Haute Couture et de la Mode to showcase her brand's couture collection at the Paris Haute Couture Week. Shadangule was picked for her top end-craftsmanship, innovation in silhouettes which is translated through her creativity, sustainability, social impact, and most importantly, her championing of India's traditional textile heritage.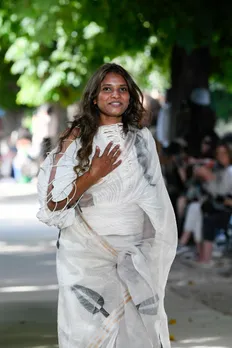 This year PHCW viewed Indian designers from a lens beyond that of just surface embellishments and embroidery, and Shadungale's selection to this platform is an answer to the fact. The show was a dream come true for Shadangule. "At the same time, which I had not expected, there was a huge weight of responsibility on my shoulders when I realized that the whole traditional sector of weavers and India fashion could benefit from a proper success," she says.
Vaishali is the first Indian woman designer, and one of two international guest designers who were invited to participate at the PHCW. The show was an eye-opener to the possibilities of how creative one can be with handloom. The location of the Lycee Victor Duruy was just in line with all that she wanted to convey with her collection.
Putting together the collection during lockdowns had its own share of difficulties. Luckily enough Shadungale had explored new and different weaves with her weavers, and had placed orders so that they could keep working and earning during those challenging times. Hence, the most difficult problem of the supply chain was overcome. Putting together the final collection was a real mission, with people spending one full month in the premises: working nonstop, fully focused and sanitized.
The couture collection spotlights 25 garments featuring craftsmanship from the length and breadth of India, including merino wool woven in Maheshwar, khun from Karnataka and other indigenous weaves from West Bengal. The garments that made up the collection were inspired by nature - the lines and curves we may see in corals, tree barks and other textures created by nature. Known widely as 'wearable art", the collection comprised of darker shades suited to the Autumn-Winter season, and included some of Shadungale's signature techniques such as cording, engineered deconstruction and texturing.
The last two decades have been a roller coaster ride. "I can't even recall all the bumps I have gone through," she says. Growing up in the central Indian state of Madhya Pradesh (MP), a state which is home to weaver communities, influenced Shadangule's decision to work with handloom. "I have always seen my mother wrapped in beautiful chanderi working all day very comfortably; extremely elegant in its simplicity," she says. Today, she works with several weaves mainly from MP, Maharashtra, Assam, Karnataka, Rajasthan, West Bengal and UP. Hailing from MP, most of Shadangule's work is inchanderi as she has always worked with it, and khun because she finds it extremely elegant and easy to combine with other weaves.
So how does she create such beautiful structures from simple weaves? First of all, in order to be able to work with hand weaves, one must be good at hand weaving, and be able to appreciate all the potential and the different angles they offer. Though Shadangule is not a weaver, she knows how to weave and loves sitting on the loom when starting a new motif. According to Shadangule, when she likes a weave, she starts seeing it in her mind. Subsequently she starts draping it around a dummy, which is where she gets more clarity. "If you are just "buying" hand weaves, then it is difficult, and there are limitless problems of communication, logistics, etc.  For me they are what gives me the freedom to fly," she says.
Teaching the weaves to the weavers was the easy part. "Teaching the weavers is mainly a language effort, because they are extremely smart and adaptable; they catch immediately what you mean," she says. Then, at a second stage the effort is mainly (huge) to control the quality, delivery time, and process.
Besides apparel, Shadangule also makes installations, lighting and interiors. She started these not only from a sustainability point of view, but also out of respect for the intense hours of work that weavers put into a fabric. Her clientele for installations and interiors though limited, is a good one. She supplies mainly to private people, and tends to craft something extremely personalized each time. Yet, most of her revenue comes for the apparel business.
Where to from here? Well, "there are so many projects," she says. And she hopes to be back in Paris soon!