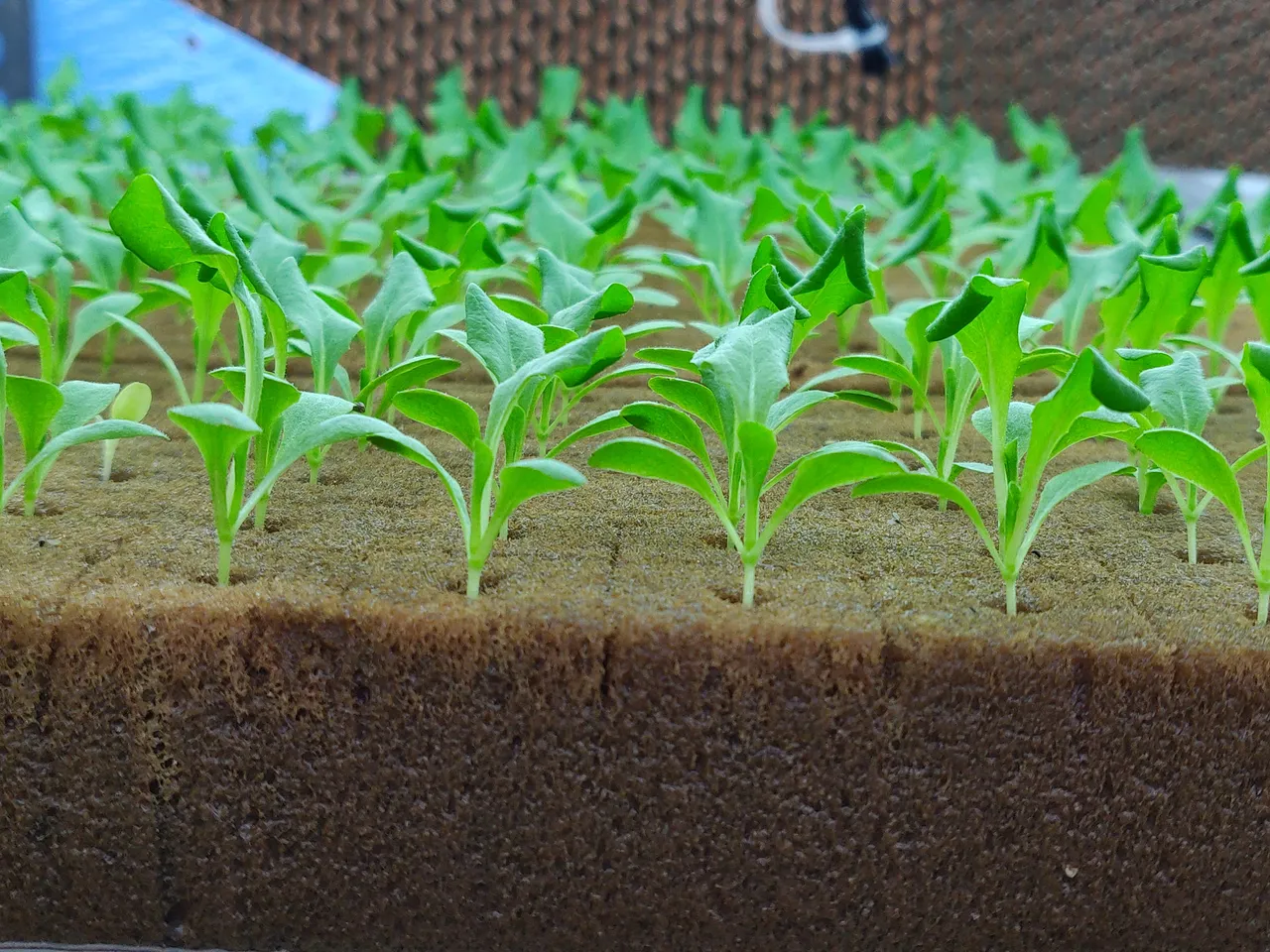 When Mumbai based Saurabh Mundra set up his hydroponic farm near Talegaon, a town in the Pune district of Maharashtra, it was after a conversation with friends venting about city life. The conversation ended with "hey we should set up a hydroponic farm." While it was all said in jest at the time, Mundra was the only one who followed through on it. Today, two years later, his Saladable branded produce is available at seven Nature's Basket outlets in Mumbai, and delivered to just over a 1,000 homes.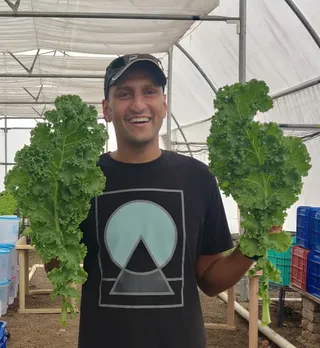 "Most people are reasonable and understand that it is a tough job to supply in normal times, and even more so now," says Saurabh Mundra.


As the current lockdown in the country has made it difficult for people to step out of their homes to buy essentials, online and home deliveries have become the way to do business. This has given a much needed opportunity to start-up companies to move ahead. Saurabh Mundra started Mundra Farms (https://www.saladable.com/) in 2018. With no background in agriculture, this was a big learning experience for the Information Systems graduate from Carnegie Mellon University. Mundra was quick to learn that farming is all about giving the plant exactly what it needs, in terms of nutrients, and making sure they have the right environment to grow in. As the environment is controlled by exhaust fans and a cooling system, it is also about finding the right vendor for the greenhouse, and tanks. "Most of this is technical stuff and is more engineering than agriculture," says Saurabh Mundra, farmer, Mundra Farms.


Mundra studied Information Systems, with an additional major in Business Administration, at Carnegie Mellon University, Pennsylvania, USA. His entrepreneurial streak was evident from his student days. While at CMU, Mundra and his friends developed bibme.org, a citation generator, that generates the works cited page at the end of a paper. Though started as a senior project for his degree in Information Systems, the website caught the attention of both students and educators to use the platform in the classroom. When the friends graduated, and as the website was generating enough revenue to sustain itself, it was turned into a company. In 2010 it was sold for $500,000 to US based Imagine Easy Solutions, and then was eventually sold to US education technology company, Chegg Inc.


After graduating in 2007, Mundra worked at investment banking firm, Merrill Lynch's (ML) New York office for five years. After leaving ML, Mundra and a friend started an education technology company called Infinite Student (originally Melon Prep) in 2014. Infinite Student (IS) essentially built IT tools for assessment, communication and attendance for schools. In 2015, IS was sold to Bengaluru based educational technology company, Byju's, in an all-stock deal. (Mundra is tight-lipped regarding the amount he got for this sale quoting a non-disclosure agreement with Byju's.) Post the sale, Mundra worked at Byju's for two and a half years, seeing the firm grow from a 200 people company to a 4,000 people company. Then Mundra's itchy feet got the better of him. He and wife, Vandini Kabra, left Bengaluru and headed towards Talegaon, Maharashtra.
Funded by internal accruals (Mundra's savings from his first job at Merrill Lynch New York and the amount he got from the sale of IS to Byju's), today Mundra Farms is a tight ship with six employees.


So why a hydroponic farming against conventional farming? Unlike conventional farming, hydroponic farming doesn't require any soil. Other substrate like coco coir, foam cubes etc. are used to hold the plants in place. Water soluble nutrients are delivered to the plants, either as a continuous flow or via drip irrigation. Hydroponics uses a fraction (some say 5 per cent – 10 per cent) of the water required for conventional farming. As the plants are closely packed, there is no harmful nitrate runoff into the environment as in conventional farming. Also, as plants are grown in a protected environment like a polyhouse or a greenhouse, the need for pesticides is eliminated.


At Mundra Farms, the first eight months were spent on perfecting how to grow the produce. As with any start up, this one too had its share of teething problems - either with the fertiliser vendor changing the required brand, or dealing with a month long outage. Much of what Mundra grows are cool weather crops. He started with arugula and three varieties of lettuce and kale. Then white bok choy, Swiss chard, other varieties of kale and lettuce and mustard greens were added to the product list. The produce was branded Saladable.


Early 2020, the farm scaled up and built a second greenhouse. This was set up to grow vine crops such as heirloom tomatoes, snacking cucumbers and cherry tomatoes. Then there was some experimentation to grow banana peppers, but it did not prove to be economically viable. "I don't think it makes sense to take on investor money and grow at all costs, because you would have scaled but to maintain a brand and to maintain quality is incredibly hard," says Mundra.
On the retail front, the initial idea was to keep wholesalers as the distribution point. However, Mundra quickly learnt that it's a tough market. Next, he approached the restaurants. However, as they wanted two months of credit, they were not entertained. In hindsight, according to Mundra, "had we gone with the restaurants, we would now have had three months of unpaid bills from restaurants who may never again show up at the end of this," he says.


Mundra's lucky break came when one of south Mumbai's local sports club, National Sports Club of India (NSCI), agreed to keep the Saladable branded produce at their store. This was the farm's first organised retail distribution point. This was followed by a call from Nature's Basket, the chain of supermarket and grocery stores run by Spencer's Retail Ltd., a RP-Sanjiv Goenka Group company. Today, Saladable is available at seven Nature's Basket outlets in Mumbai.
Customer complaints are taken seriously. According to Mundra, in case of a complaint, the item is either replaced or money refunded - no questions asked. However, there is always that customer who always has a problem. "Most people are reasonable and understand that it is a tough job to supply in normal times, and even more so now. We try our best to manage expectations," he says.
However, the lockdown from mid-March onwards put a spanner in the retail wheel. The NSCI dome was turned into a quarantine hub for patients with Covid19, closing off this retail outlet. What still remained were the Nature's Basket stores in Mumbai. However, lockdown rules allowing stores to stay open only for four hours a day has eaten into sales.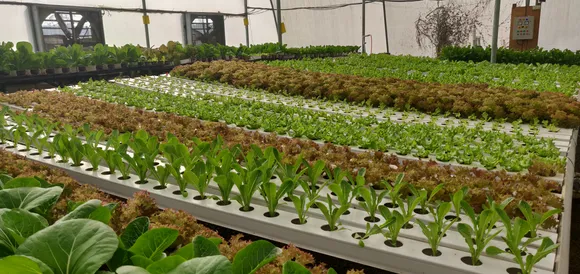 As the plants are close to each other, there is no harmful nitrate runoff into the environment as in conventional farming. Pics credit: Vandini Kabra


With restrictions on people to step out of their homes to get essentials, and contactless shopping the order of the day, home delivery saved the day. While home deliveries were done for the northern suburbs of Mumbai, south Mumbai was added to the delivery schedule. To increase the basket of the home delivery, Mundra has added produce from a neighboring organic farm. For now, Mundra does 400 retail deliveries a week. Home deliveries are now five days a week.
Freight and packaging costs have increased since the lockdown. Typically, cardboard boxes are used to ship the produce from the farm to Mumbai city. However, when the farm ran out of cardboard boxes, Mundra had to get the cardboard boxes from Aurangabad, a city 300 km away, instead of the usual cardboard box supplier just 8 km away. The lockdown gave rise to such an unreasonable situation as both the cities of Mumbai and Pune have been red zones with the coronavirus outbreak.


So has it been worth it through all this? According to Mundra, economically, no. "Then if you made all your life choices economically, you would end up doing something incredibly boring," he says.