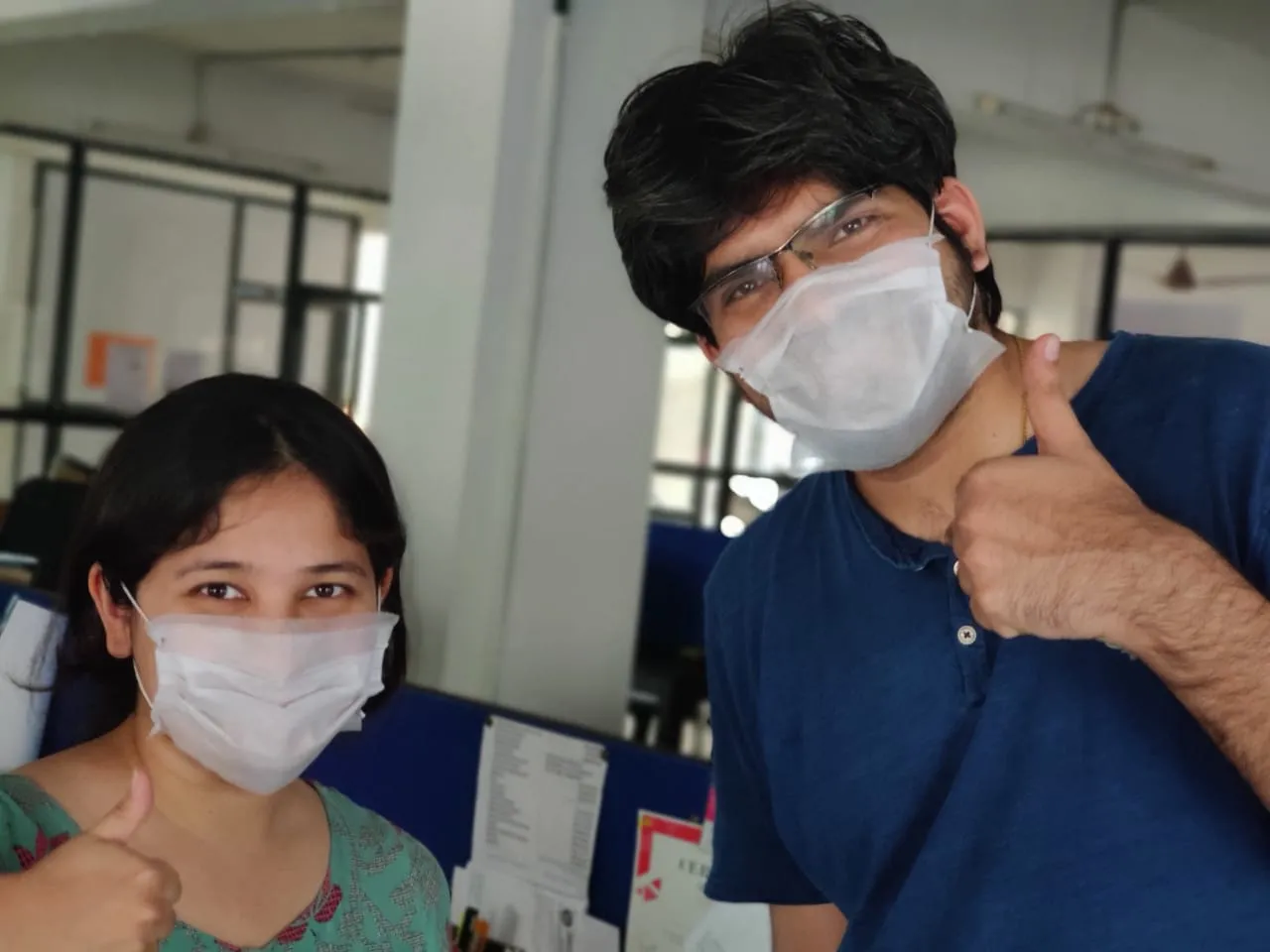 Ever since the coronavirus hit Indian shores, life, as we know it, has changed. The flight of the pandemic has touched many people – from those in their ivory towers to the migrant labourer. This unprecedented spread of the virus has led to a shortage of protective gear for the front line helpers – doctors, nurses, and others. To help contain this shortage, the Government of India reached out to various industry organisations and leaders to help in the manufacture of items required by various agencies at this time.
Both the Confederation of Indian Industry (CII) and Federation of Indian Chambers of Commerce and Industry (FICCI) have mobilised a coalition of manufacturers in collaboration with industry associations. The CII mobilised a coalition of manufacturers in collaboration the Automotive Component Manufacturers Association of India (ACMA), Society of Indian Automobile Manufacturers (SIAM), Indian Machine Tool Manufacturers Association (IMTMA) and Society of Indian Defence Manufacturers (SIDM). "The manufacturing companies will produce and procure medical equipment including ventilators, masks, and personal protection equipment for medical and other emergency staff. We request the Government to consider removing customs duty on these items and their inputs on a temporary basis to free up resources for producing them," says Chandrajit Banerjee, director general, CII.
This time of adversity, has brought out the innovative spirit of corporate India. Auto major Mahindra & Mahindra has already announced plans to manufacture ventilators. Coimbatore based sugar mill, Rajshree Sugars & Chemicals Ltd., apparel manufacturer, Arvind Ltd. and Raymond Ltd., have also expressed their intentions to the government.
The Mumbai based auto major, Mahindra & Mahindra is repurposing engineering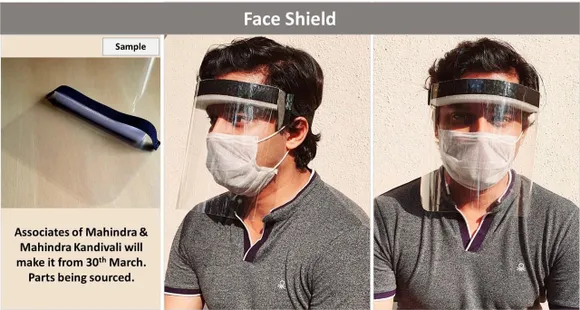 Mahindra & Mahindra is repurposing its engineeing capabilites to manufacture PPEs - ventilators, respirators, face shields and masks.
capabilities to manufacture PPEs - ventilators, respirators, face shields and masks for health care workers. The company has indigenously developed an affordable respirator which it hopes will be invaluable in early recovery stages of the illness. Based on advice from specialists, the team has included several features such as, variability controls, sensors and emergency shut-off in the design. The company is working with an indigenous maker of ICU ventilators. Based upon expert feedback and more research, the teams will develop two more prototypes.

Version two of the ventilator will see Mahindra's engineering team, and two large public sector undertakings work with an existing manufacturer of high specification ventilators to simplify the design and ramp up production. The third prototype will be that of an automated version of the Bag Valve Mask Ventilator, commonly known as the Ambu Bag. This could cost as little as Rs7,500 per ventilator, compared to the Rs5-10 lakh cost of a traditional ventilator.

Further, Mahindra Agrochemicals' plant has produced test quantities of sanitisers and plans are to  produce them soon. The plant has received a license on compliance with all formalities by the regulatory authorities both at the centre and in Gujarat.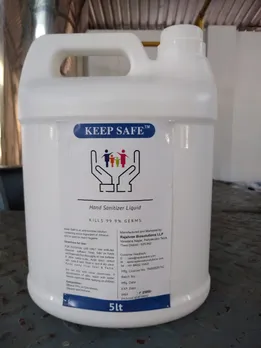 RSCL's hand sanitiser is available for corporate and instutional use.


Coimbatore based sugar mills, Rajshree Sugar & Chemicals Ltd., group Company Rajshree Biosolutions, and Mumbai based Raymond Ltd. have shown an interest in making sanitisers. RSCL and Rajshree Biosolutions were both issued a licence to produce hand sanitizers during this time to help augment the supply and demand for these products on an urgent basis. Rajshree Sugars has two distilleries that produce ethanol and ENA (extra neutral alcohol). As ENA is the basic raw material used for sanitizers, it becomes easier to produce them from captive distilleries. The company has not manufactured this product earlier, and licenses were only just granted for this extraordinary circumstance. At present, the company has been allotted 3,000 litres per day of alcohol by the State Regulatory authorities which converts into 4,000 litres of hand sanitiser.
However, though there is a nationwide lockdown, the government has allowed for certain `essential' items to be produced during this time, and the sugar industry is allowed to operate as well. "As we already have stocks of alcohol with the company, it does not require us to run the distillery," says R. Vardarajan, wholetime director, Rajshree Sugars & Chemicals Ltd. "Adding the permitted ingredients to the alcohol requires only a few workers practising social distancing and wearing masks and surgical gloves to handle this small batch production. The workers are hosted `in residence' within the manufacturing premises, and are therefore safe and protected from any contamination," he adds. Vardarajan hopes the company can continue with this as a permanent value addition to their by-product, and will apply for the necessary permissions later.

Raymond Consumer Care Pvt. Ltd., an associate company of Raymond Ltd., also wants to make a positive contribution to India's fight against Covid19. In fact, the company has recently developed an effective hand sanitiser, which it hopes it can provide to the market soon. "A steady supply of hand sanitizers is the need of the hour," says a Raymond Consumer Care spokesperson. "The commercial production of hand sanitizer is currently awaiting the government approval and it is our endeavour to make the same available across the country through our expansive distribution network," he adds.  Given the company's wide presence in the category with brands like Park Avenue and KamaSutra, Raymond has the capability to scale up supplies of its other personal hygiene products such as soaps and shampoos, as well.


Ahmedabad-based textile manufacturer, Arvind Ltd., in collaboration with the Indian government, is working towards manufacturing personal protective equipment (PPE) suits. The company manufactures cotton shirting, denim, knits and bottomweight fabrics, so the material used for PPE suits is not a regular product category for the company. It will be adapting its existing infrastructure to make the PPE suits. "We have procured special machines for the same," says an Arvind Ltd. spokesperson. Plans are to manufacture 1000+ suits per day. However, with all manufacturing plants shut, "the government is helping in every possible manner to facilitate the manufacturing of needed items," says the spokesperson.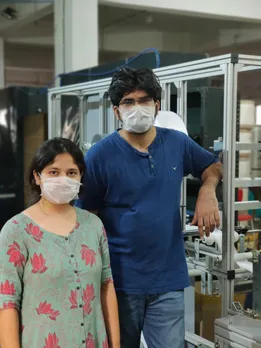 Saral Design's Sohini Mohan and Kartik Mehta with their 3-ply surgical masks.


Even start-up companies are adding their ingenuity. Mumbai based start-up Saral Designs, which designed the world's first decentralized sanitary napkin making machine, realised mid-March the extent of shortage of face masks and decided to start working on it. "Even amidst the lockdown, the design team had put in long hours and within a span of 10 days, we had our designs ready for making surgical masks," says Kartik Mehta, co-founder & CTO, Saral Designs.


Saral has made 3-ply surgical masks using their Swachh technology. It is well researched that 3-ply masks help in battling coronavirus. It prevents the infected to spread the virus to people nearby, and hence they are need for the entire population. So while the design of machine was ready, due to the lockdown, the company's suppliers were unable to open their factories and provide them with the necessary parts that were needed. So Suhani Mohan, cofounder, Saral Designs, reached out to Anand Mahindra, chairman Mahindra Group, to help them with parts fabrication. "This partnership started from there, and since then we have been working intensely with the Mahindra team, not only for fabrication of parts, but also for production and distribution of these masks," says Mehta. "We are very grateful that Mahindra has offered support and taking up the task of scaling up the mask production and supply," he adds. The company will ramp up the production to 10,000 masks per day in 10 days, and keep working on scaling it up. The masks have a filter layer with bacteria filter efficiency of 99.95 per cent and are UV sterilised.


According to Banerjee, the CII is working to supplement skills among healthcare workers and volunteers through its nationwide skilling initiatives. Also, the nationwide lockdown has left many workers without shelter and food. So the CII has commenced community initiatives for workers and poor sections of society across the country. These include distribution of daily essentials to poor people, identifying public and private buildings to be converted into temporary relief shelters, community kitchens for providing food, and raising awareness in the community through IEC in local languages. It is in times like these that it is important to help as much as we can.