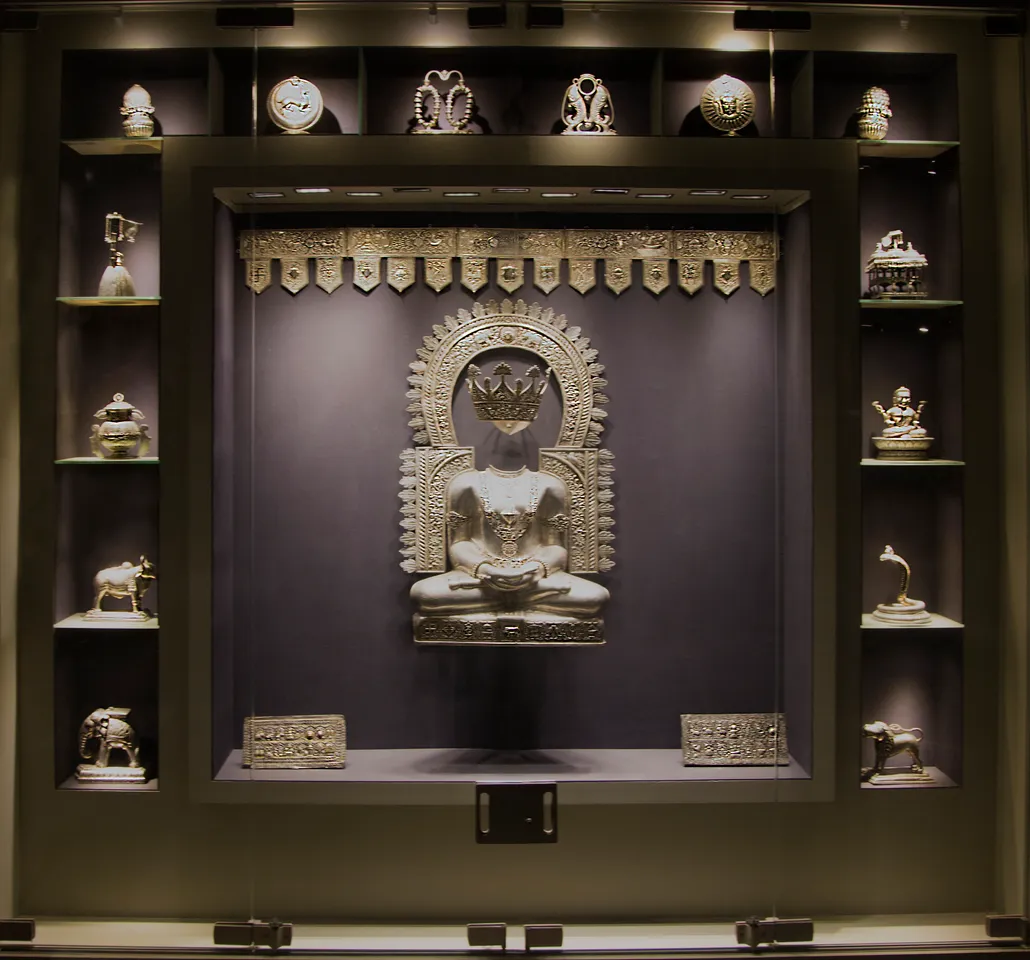 What started off as a silver jewellery store in the 1970s, Jaipur based jewellers, Amrapali Jaipur, have now evolved into a jewellery and design group. It has been a step-by-step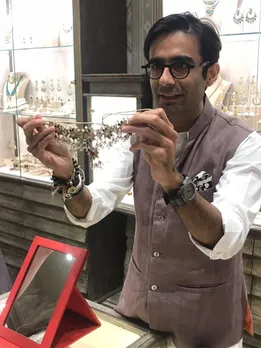 According to Tarang Arora, there is place for both Amrapali and Tribe brands.
journey. From being a silver jewellery store selling some of the most sought after lifestyle jewellery pieces, to opening a museum which relates the story behind silver jewellery in India, and most recently, a design school, Amrapali has come a full circle.
Amrapali was started by two friends, Rajesh Ajmera and Rajiv Arora, in 1978. The duo started by making traditional silver jewellery which was being worn by various tribes across India. Over the years, Amrapali moved on to work with gold, but silver jewellery remained its main stay. While Amrapali's jewellery was priced at Rs500 onwards, there was a need to target the customer at a lower price point. In 2014, the company launched Tribe, a sub-brand within the Amrapali brand at a lower price point. "There are two different things we see both the brands doing in the market, and we think there is an existence for both," says Tarang Arora, jewellery designer and creator, Amrapali Jaipur. So for instance, if there is a wedding in your family, then you would buy jewellery from Amrapali. Then, if you have to give a 100 bangles for the
mehendi
function, that's what you could go to Tribe for.
Initially lunched as an online brand in 2014, Tribe went offline in 2017. Today, there are five Tribe stores between New Delhi, Mumbai and Kolkata, and three points of sales. Initially, when Tribe was launched online, Arora was skeptical about how it would grow. However, his views changed over time. "Originally, when we started, I thought that wasn't the right time to start something online yet for jewellery, which I am happy to say I was wrong. I thought after a certain price point you still need to see things. Once you've seen them, and you have purchased offline, then you can go back and do online shopping of that level as well," he says.
According to Arora, off-line sales are growing. When the brick-and-mortar stores were started 2017, the sales ratio for offline: online at Tribe was 25:75, with online being 75 per cent of sales. Today, this ratio has changed, with offline or in-store sales bringing in 60 per cent of revenues, and online sales accounting for 40 per cent. Though the online space in India is very competitive, its present perception is that products available online are cheaper than those available offline. "I think Indian online is designed by discounts and sales only," he says. "It will take a little longer to understand that there could be something online which is not necessarily on discount. That could be jewellery pieces of fashion, or new collections launched online as well. That is a challenge we feel online today," he adds.
As a brand, Tribe doesn't offer too many discounts, however it has to match what it is doing off-line in the market. So if everyone around them is on sale in say, Select City Walk in New Delhi, or at Palladium in Mumbai, then it has to be on sale too. While there may be a festival-related sale once in a while, the company tries not to elongate it.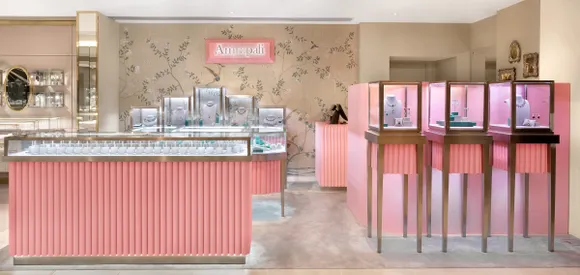 In 2019, Amrapali launched the Gem Bar at Harrod's in London.
Amrapali Jewels made its international foray way back in 2002 with a presence in London. Today, Amrapali, the flagship brand, has an international presence through 36 points of sales between London and the USA. In London, Amrapali is available at Harrods, Beauchamp (pronounced Beecham) Place and Selfridges. Since 2014, only the fine jewellery range has been available online at Net-a-porter. After it entered the US market in mid-2016, the Amrapali Legend range has been available at 14 Neiman Marcus stores across the US.
In the summer of 2019, the company launched a Gem Bar at Harrods. Here it showcases a large collection of rare, precious and semi-precious loose stones from around the world. Situated in the Amrapali boutique in the new Luxury Jewellery Room at Harrods, the Gem Bar allows clients to handle an array of loose stones, understand the heritage and origins of each stone, while exploring ways in which the stones can be set to bespoke requests.
The idea behind the Gem Bar is to give the international customer a complete made-to-order experience, and a look into what Jaipur has to offer. Jaipur is the biggest cutting center for coloured stones, especially emeralds. The idea was to create an original concept with loose stones as the starting point. The gem bar was then developed as a dramatic theatrical display to highlight the beauty of each stone.
It essentially has about 54 stones which are cut in Jaipur – such as Colombian emeralds, Afghani emeralds, African rubies, Burmese rubies, amethysts, and tanzanite. A customer can come to the Gem Bar, see the variety of stones and colours, and design something for either herself, a spouse, their mother. After choosing the stone, the design team designs some options. The stone/s can either be set in white gold, silver (though being fine jewellery not many opt for silver), or even
jadau
. The design and stone are shipped back to Jaipur, and the jewellery gets made in the Jaipur workshop. "We aim to educate and show the difference between stones from a variety of origins. I want to involve clients on every level in the design process, and work to create unique jewels that have personality," says Arora. "It's the experience of choosing the stone, knowing the story of the stone, where does it come from, where was it cut. It's not that we have made the piece, and then we are telling you the history," he adds. The initial response has been encouraging.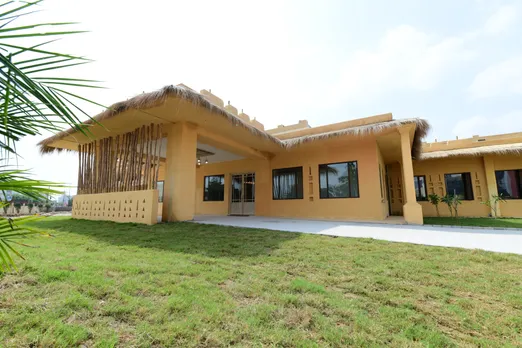 An investment in the Gurukul School of Design will help with financial inclusion, strategic alignment and product design.
While expanding in retail is the business part of Amrapali, an investment in a design school was seen as a necessary addition. In late 2017, fashion designer Raghavendra Rathore started the Gurukul School of Design (GSD) in Jaipur. Rajiv Arora, Tarang's father, came on board as a strategic investor. As a strategic investor, Amrapali will not only help with financial infusion and strategic alignment, but will also give emphasis to product design, namely jewellery. According to fashion designer Raghavendra Rathore, the Gurukul way of teaching fashion is a radical new program. The school aims at moulding the next generation of designers by allowing them to take a 360-degree all-encompassing view of design, bringing together not only technical factors, but encouraging them to incorporate what they learn, into a local, global and social context, combining the heritage of the local landscape with design culture from around the world. "The Gurukul School of Design's vision is unique. We need a revolution in how graduating students can change the landscape by bringing an entrepreneurial spirit with good understanding of design, while using local and global resources," says Rathore. "In a world where change is the only constant, I strongly believe that the designers of tomorrow need the opportunity to absorb an all-inclusive education. While other design schools propel the idea of focusing on one discipline, the GSD curriculum combines fashion design with management, and the business of fashion, while staying close to the self through a series of courses on well-being and self-management, all under one program," he adds. Operational since August 2018, GSD offers a four year programme. Each batch comprises 20 students. The first batch of students has just entered their second year.
When the founders, Ajmera and Arora, travelled across India in the early 1980s, to explore her art and soul, the unique jewellery worn by the tribals they encountered, and objects bartered in markets they visited, caught their eye. That's when they realised that every 20 km in India, you have a different language, different clothing, different food, and different goddesses, and so with jewellery. Their idea was to take old jewellery pieces, redo them and sell them. However, along the way, they fell in love with some of the pieces and would keep them aside. In doing so, a collection came together. Eventually, in retrospect, both Ajmera and Arora felt that when they were starting out, there was no place to go and see all the various jewellery from different parts of the country. Hence, the thought of a museum as a way of giving back to society.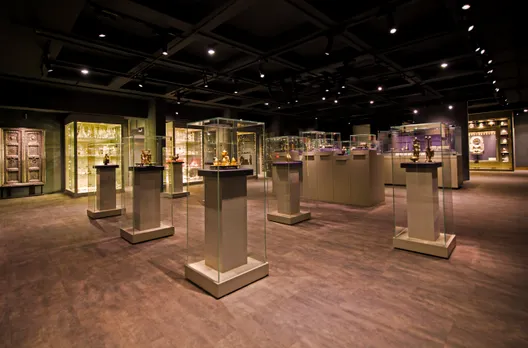 The Amrapali Museum showcases traditional silver jeweled arts of India.
Spread over two floors, the Amrapali Museum showcases traditional silver jeweled arts of India, reflecting the daily life of the people of the country. The museum showcases rare jewellery and artifacts collected by the founders. The idea is also that the museum should be a haven for scholars, students, connoisseurs and other visitors to Jaipur, who will get to explore the heritage and history of India through its jewellery and artifacts. The museum also seeks to explore the enormous range of inspirations for design that were available to the Indian craftsman over time, from nature, religion, geometry or international trends, seen through both the jewellery as well as the range of silver objects in the collection: from spittoons, rosewater sprinklers, and
paan
sets; to plates, tea sets, and assortments of boxes in every shape, size and type of craftsmanship; to personal accessories as small as a toothpick, or elaborately made silver shoe covers; and the most extravagant item of all, a chariot covered with silver. Some gold and jeweled items are also on display, in keeping with the aim of being representative of Indian art and craftsmanship. Footfalls at the museum is kept at a minimum of 15-20 people daily, "because our assurance team can't manage more than that, as it takes time in explaining intricacy of jewellery and objects," says Arora.
The Aroras and Ajmera have worked to provide a complete ecosystem of design with Amrapali. It seems to be paying off.