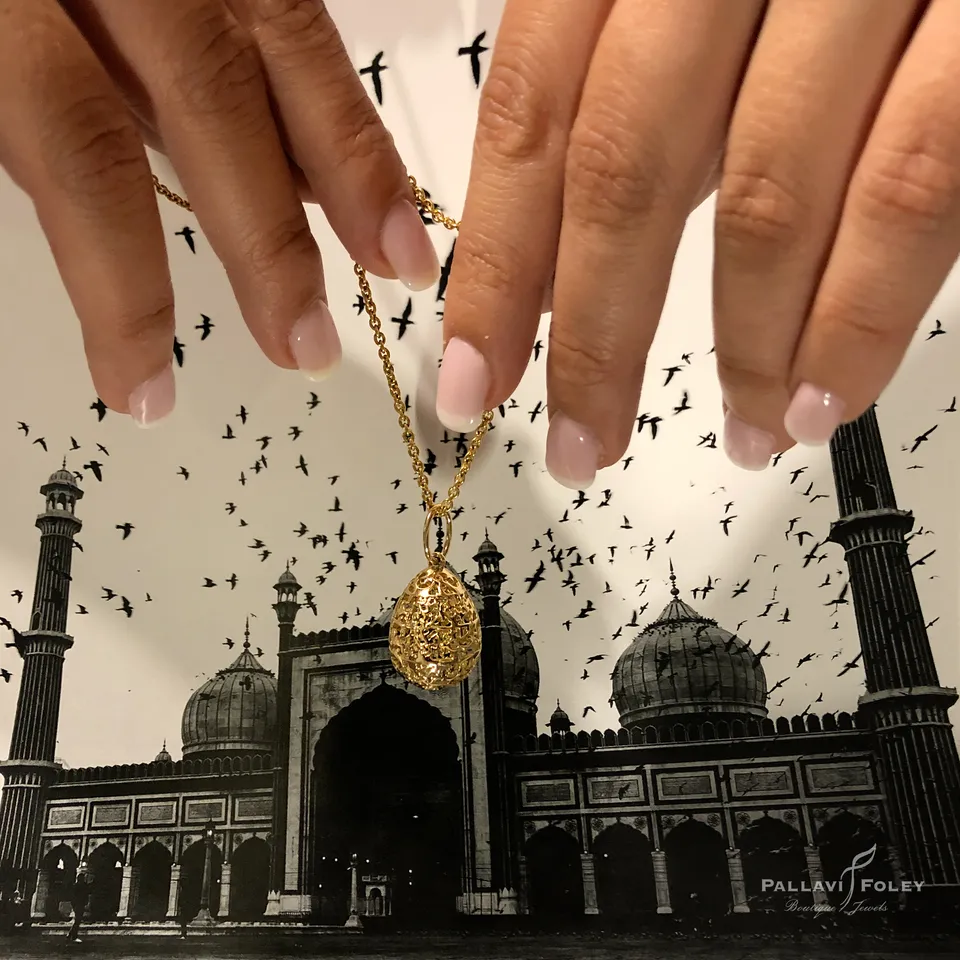 In times of need, we look for a prayer to comfort us. Now you don't have to look too far. Bengaluru based jewelry designer, Pallavi Foley, has been making prayer pendants for the last few years. In fact, they have become so popular that a number of international clients put Bengaluru on their itinerary, apart from other things, to shop at her exclusive boutique at The Leela Palace Hotel. Since June this year, Tanishq, the jewellery brand promoted by the Tata Group, tied up with Foley to market the 'wear a prayer' collection nationwide. "It is a perfect collaboration, since through this collaboration the prayer pendants would be able to reach millions of people across our country," says jewellery designer Pallavi Foley. "The design idea had big potential to appeal to the wide cross-section of people across the country," she adds. Though talks started in 2018, it is only in June this year that the prayer collection was launched in Tanishq stores, and on the Tanishq website.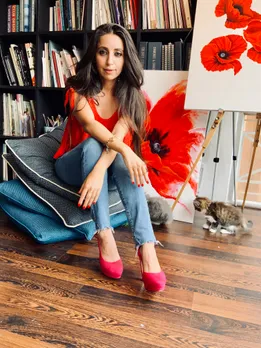 "Through this collaboration the prayer pendants would be able to reach millions of people across our country," says Pallavi Foley.
Of course, it is a big positive for Foley. Tanishq is a trust-worthy brand with strict quality checks. However, Foley is not the first jewelry designer Tanishq has tied up with. In 2014, the company had a tie up with jewellery designer Farah Khan.
Foley's prayer pendants have two designs – one is an egg shape similar to the Faberge eggs and the other, a flat pendant – with the prayer inscribed on it. The prayer eggs retail through Foley's store at the Leela Palace Hotel, Bengaluru, and online.
Priced between Rs5,000 and Rs30,000, the 'wear your prayer' collection's version that she has designed for Tanishq has unique forms that bring forward the brand's ethos. Initially, the prayers were entirely hand-made. Now, they are made with mixed techniques - where they are working with latest technology, and the detailing is done by hand. This helped solve the volume aspect, as well as has given the product an excellent finish.
In the hugely spiritual country that India is, there is no dearth of prayer pendants or talismans to bring good luck and hope or ward off evil. Different faiths have different talismans. The Sikhs have the
kada
. Most Muslims would wear
Aitul
Kursi
, a verse from the Koran, as a prayer for protection. It is common to wear a
taveez,
where prayers are stitched onto a cloth and strung on a cord. Temple jewelry has been popular for centuries. Then there are some people who wear birthstones prescribed by astrologers. In fact according to Shanoo Bijlani, managing editor, Solitaire International, "this
is one of the finest original ideas in so many years." Solitaire International is the trade magazine of the Gem and Jewellery Export Promotion Council. "Whether it is a prayer or a stone, Pallavi has made it young and appealing," says Colin Shah, MD, Kama Schachter Jewelery.
Foley's prayer collection, especially the Gayatri mantra pendant, is actually quite famous. In fact, even before the collaboration with Tanishq, Foley's 'wear your prayer' collection was positively touching lives of many people across India. The product idea is simple and powerful, with an underlying goodness to it. The product's mission is to give hope to the wearer. It aims to empower a person, with the power of a prayer. Looking at the prayer pendants from afar, they look exactly the same. What is amazing is that these pendants are the size of a thumb nail and yet, the scripture is engraved on it.  It is only when you come very close do you see the difference in the scripts and the different prayers. In all, there are 19 prayers and the concept's core is in the deep value system of unity-in-diversity, so all the prayers pendants, whatever faith they belong to, look exactly the same, though each prayer is carved with its own traditional scripture. What makes this story even more precious and humbling is that the customers don't necessarily buy the prayer egg of their faith; they buy the prayer that most resonates with them. In fact, according to Foley, even the karigars who have worked on the pieces now wear a prayer egg also, because they believe good things have happened since they began the production.
Foley's strengths are the fact that she knows design, has a commercial sense and a vivacious personality which helps her sell her story. "The difference she brings to the table is her design sensibility. She is able to bring a nice edgy feel to the design. In fact, she has made it cool to wear a prayer," he says. According to Bijlani, Foley's designs are extremely avant garde, especially her interpretation of the Navratna on enamel.

So how did the idea of a prayer collection and egg-shaped pendants come about? As a young girl, Foley spent much time in Delhi with her maternal grandfather. He would visit the temple, and chant the Gayatri Mantra; he believed it gave him strength. For Foley, as she grew up in a household that was deeply spiritual, but not necessarily religious; it was enchanting to witness this faith. But why an egg? "Because life comes from it," says Foley. "It is my way of wishing well for people who wear them," she adds.
Later, learning design at the National Institute of Fashion Technology (NIFT), Foley was fascinated with the world renowned Faberge jeweled eggs. The germ of the idea to create three dimensional prayer eggs came when a good friend was going through trying circumstances and asked Foley to give her something she could wear that would bring her peace and strength. So, with the idea of bringing two strong influences together - Faberge and her late grandfather – Foley designed the prayer egg collection - drop pendants, or charms, in prayers of 19 different faiths. Each egg has the script of the prayer on it.
Interestingly, jewelry design wasn't Foley's first choice while at the NIFT. She had wanted to become a fashion designer. However, during her interview and situation test at NIFT, the group of faculty and psychologists on the panel thought she was better at 3D thinking and creating patterns. So they had suggested to Foley to opt for accessory design. Of course, she wasn't very happy at first, but then it didn't take her too long to fall in love with working with materials.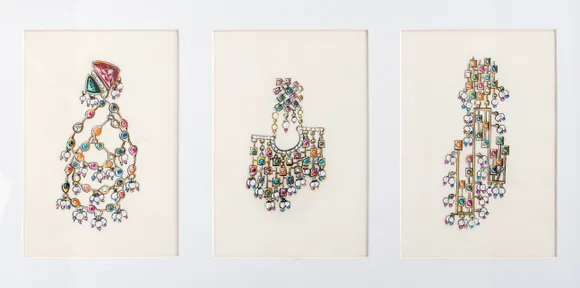 Foley's interpretation of the Navratna
Foley graduated as an accessories designer from New Delhi based NIFT in 2000, and then went on to work for Tanishq for close to a decade. She was lead designer international business division at Tanishq when she left. So working with Tanishq again after a decade for the prayer pendants was nostalgic for Foley, "especially since this collection was created at the factory in Hosur, it meant a lot to me," she says. "It took me down memory lane to of how I had learnt to set a diamond there in my initial days," she adds.
At Tanishq, she had got the opportunity to redesign the crowns for The Femina-Miss India beauty pageants. As Foley likes every piece she designs to tell a story, and as a young woman given the task to redesign an iconic statement, Foley moved away from the traditional tiara crown to give more meaning to the wearer. So she translated the auspicious tilak-ceremony to celebrate victory, a traditional Indian ritual of applying vermilion to the forehead, into the Miss Universe crown with the large red stone. The crown draws its form from the galaxies in which the strands with crystals radiate out like shooting comets, and the red stone drop not only signifies the tilak, but also the cosmic energy held together at the centre. Our national bird, portrayed in its full glory of dance, this layered crown came together for the winner of the Miss India title.
Believing that every piece of jewellery must be functional, here too some smart engineering went into the designing the crown, on the way it sits on the head of the wearer. When doing her research for the design, Foley spoke to past winners and asked them what it was about their special moment that they remembered most about the crown. And the ladies told her that their crowns would keep toppling in the excitement and movement on stage. So functionality was worked into both crowns with a special clip mechanism that made the crowns fit perfectly and snugly on the winners.
At present, Foley operates out of her two stores – one at the Hotel Leela Palace, and the other at VR Bengaluru. Plans are to open five stores by 2021 in India and abroad. However, the first step will be to have a presence at airports, both in India and abroad. While there is a lot of interest from investors from India and abroad, Foley is tight-lipped about the details.