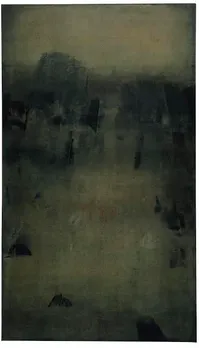 Vasudeo S. Gaitonde Untitled. Estimate $1, 800, 000 - $ 2, 200,000. Painted in 1970. Source: www.christies.com
Christie's upcoming South Asian Modern + Contemporary Art auction in New York this week will be part of Asian Art Week in New York. It's quite a classic sale. The auction presents paintings by leading modern Indian masters, such as Vasudeo S. Gaitonde, Syed Haider Raza, Francis Newton Souza, Maqbool Fida Husain and Jehangir Sabavala, alongside significant contemporary works by Bharti Kher, Subodh Gupta, Shilpa Gupta and Sheba Chhachhi. Also included are important works by South Asian modernists George Keyt, Abdur Rahman Chughtai, Rashid Choudhury and Sheikh Mohammed Sultan. The sale offers an overview of the past 100 years of Indian art making.
The catalogue is a nice collection of contemporary works. One of the noteworthy works is a 1970 work by Gaitonde Untitled. Featured on the cover of the catalogue, the work was painted when Gaitonde was recognised as being at the peak of his artistic powers. The painting, which displays a kind of non-objective chiaroscuro, is a meditative masterpiece and represents a cornerstone in Gaitonde's oeuvre (estimate: $1,800,000-2,200,000). The consignor of the work, Dara Mehta, acquired the work at a public auction of antiques and collectibles from the estate of philanthropist Dr Jamshed Jehangir Bhabha, last April. It would be interesting to see what the Gaitonde goes for considering his 1975 canvas, Untitled  sold for a record $4,384,777, a world auction record not only for the artist, but for any modern Indian work of art at the South Asian Modern + Contemporary Art auction in May this year.
Other interesting works are that of Raza's L'Orage and Zamine. L'Orage perfectly presents Raza's longing for the Indian landscape so acutely felt and articulated in the 1970s. It is Raza's exaltation of and homage to India, a place he revisited through every brushstroke, capturing the essence and colors of the country during his years away.
From the contemporary Indian artists, there are notable works by Shilpa Gupta, Bharti Kher and Hema Upadhyay. Then there is the Pakistani-American artist, Seher Shah's first work, titled Jihad Pop ($8,000 – 12,000).
The entire proceeds from the sale of Lots 695 – 700D will be going towards The Germination Project. The Germination Project is a non-profit catalytic incubator under the aegis of the Pamela and Ajay Raju Foundaton in Philadelphia, USA. One of the initiatives of the Germination Project is IntXchange, a transnational art advocacy network, dedicated to forming a new art and culture exchange between the East and the West.