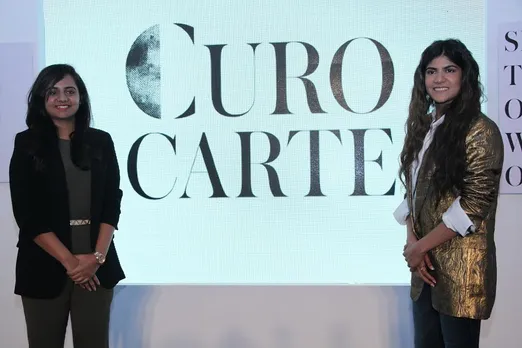 (L) Kanupriya Verma, COO and Ananya Birla, CEO & founder (R)
Ananya Birla, Kumar Mangalam and Neerja Birla's eldest daughter,  launched her second venture, CuroCarte on September 11. Completely different from her first venture, Svatantra Microfinance, a micro-finance company she started in 2013, CuroCarte will provide rare, handmade, high quality, home accents and accessories, sourced from nine countries.
Kanupriya Verma an IIM (Indore) alumni, and also a team member from the Svatantra team, has been brought in as COO at CuroCrate. An initial investment of Rs6 crore has been made. Essentially an unorganized market, Birla is trying to bring some method to the creativity with the help of technology. The charm of CuroCarte lies in the fact that the company will work directly with the makers, or artisans of the products, from all around the world. The idea is to provide consumers with utility as well as decorative products for the home. The brand will be presenting 1,500 products across 70 categories. "Through the brand, we aim to revolutionize the e-commerce space by bringing inaccessible, aesthetically appealing products from all around the world to the people in India and also to a global audience," says Ananya Birla, founder and CEO, CuroCarte.
Priced at between Rs7,000 – Rs10,000 per item, the site will sell products from India, as well as from Thailand, Spain, Portugal, France, Morocco and Vietnam. According to Birla, a lot of focus will be given to digital marketing. Plans are to launch an app soon. "We don't have any competition. We are very different from what's out there," says Birla.
Her first venture, Svatantra Microfinance, is estimated to have a portfolio of $20 million and 80,000 borrowers in three years since its inception. According to Birla, though CuroCarte is a completely different line of business, some things remain the same. "I have realised that your team, a high EQ, a sound business model and revenue model is what matters," she says.With her second venture in place, Birla is making herself out to be a serial entrepreneur.